Movies directed by Sylvester Stallone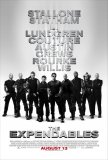 Expendables, The
For those weaned on action films from the '80s and '90s, The Expendables might seem like a dream come true. Sylvester Stallone, who is credited as both director and co-screenwriter (in addition to being the star), has assembled a dream team: himse... Rambo
In the Rambo canon, where does this one fit? The tone is closer to First Blood but the body count is more Rambo III. No matter how one dices and slices this new Rambo, the first one in 20 years, it will likely please fans of the long-in-the-tooth... Rocky Balboa
Looking back at the Sylvester Stallone pugilist franchise from the end of the line, one thing becomes clear: there were really only two Rocky movies. Everything else was filler, founded on formula and driven by testosterone and adrenaline. The tw...