Movies starring Julie Benz Jawbreaker
For the first time in more than a decade, teen films are all the rage. Stars from TV shows like "Dawson's Creek" and "Party of Five" are crossing over to the big screen in droves, resulting in such lackluster fare as Can't Hardly Wait and She's Al...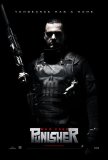 Punisher: War Zone
Marvel Comics must really like The Punisher. This is their third attempt to bring him to the big screen. There's a saying that "the third time's a charm," but it doesn't apply here. More appropriate is this baseball-related statement: "Three str... Rambo
In the Rambo canon, where does this one fit? The tone is closer to First Blood but the body count is more Rambo III. No matter how one dices and slices this new Rambo, the first one in 20 years, it will likely please fans of the long-in-the-tooth...