Movies starring Carrie Preston My Best Friend's Wedding
My Best Friend's Wedding is the estrogen alternative to the vast quantity of testosterone being pumped out by the other major June releases: Con Air, Speed 2, Batman and Robin, and Face/Off. As the summer's centerpiece romantic comedy, My Best ...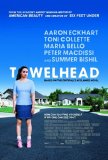 Towelhead
Towelhead is a victim of the economics of movie-making. Despite being a critical success at the 2007 Toronto Film Festival (where is played under the name of Nothing Is Private), Towelhead has languished on shelves for a full year. With Warner Br... Transamerica
As much heralded, "edgy" movies go, Transamerica fails to live up to expectations. The final 30 minutes are interesting, funny, and affecting, but that segment represents less than a third of the running time. To get to the parts of the film that...