Movies starring Kevin Zegers Dawn of the Dead
It takes guts to remake a movie that is commonly considered a classic. Of course, that hasn't stopped filmmakers in the past - attempts have been made to modernize such "untouchables" as Casablanca and It's a Wonderful Life, with predictably unfor... Jane Austen Book Club, The
The Jane Austen Book Club is an example of how a movie can follow the general plot of a book yet fail to capture the spirit. The problem is a simple one to identify: much of the enjoyment derived from Karen Joy Fowler's novel comes from the way in...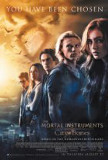 Mortal Instruments, The: City of Bones
Spoilers... I guess. Those who care, however, will have already read the book and therefore can't be spoiled. When it comes to movies based on YA novels, there are two flavors: those designed exclusively for fans of the books (Twilight, for ex... Transamerica
As much heralded, "edgy" movies go, Transamerica fails to live up to expectations. The final 30 minutes are interesting, funny, and affecting, but that segment represents less than a third of the running time. To get to the parts of the film that... Zoom
Someone in a charitable mood might consider Zoom to be a kids' film. To the extent that such a label indicates there is nothing of value or interest for adults, it's apt. However, it's difficult to imagine what might appeal to a younger audience....