Movies starring Daniel Mays Bank Job, The
The Bank Job is a heist movie in the classic tradition - it details every aspect of the caper, from its genesis to its aftermath. The fact that there's political intrigue and espionage swirling around the edges only makes it more fascinating. Dir...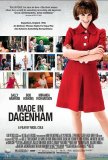 Made in Dagenham
Made in Dagenham is a fact-based "social conscience film," meaning that it explores an historical struggle against a societal ill. In this case, it's gender inequality - unequal pay for equal work. By chronicling one of the key events that led to t... Vera Drake
Although Vera Drake is about the downfall of an abortionist working during a time when the law in England decreed that it was unlawful to perform an "unauthorized" operation, this isn't really an "abortion movie." That's the context, but the tale ...