Movies starring Gene Kelly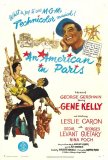 American in Paris, An
The two decade period beginning in the late 1940s and concluding in the late 1960s represented the height in popularity for the Hollywood musical. Not only did nearly every major production prove to be box office gold, but the level of critical ap... Singin' in the Rain
Singin' in the Rain is considered by many people to be among the best Hollywood musicals of all time. For those who have seen the movie, the reason for this is not difficult to understand. Watching Singin' in the Rain is an exuberant, magical exp... Xanadu
How, one might ask, does one begin to defend Xanadu? To start with, by looking at it without any pretensions and seeing it for what it is. Conventional wisdom decrees that Xanadu is a horrible film. In a sense, conventional wisdom may be correct...