Movies starring Luke Kirby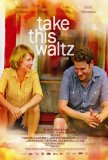 Take This Waltz
Michelle Williams must have an affinity for appearing in movies about melancholy relationships. Although Take This Waltz is by no means as big a downer as Blue Valentine, neither does it adhere to Hollywood formulas about how romantic dramas should... Halloween: Resurrection
Note to readers: this review contains spoilers. If you care, come back and read the review after you have endured the torture that is Halloween: Resurrection. There are three levels of quality in the horror genre, all of which are represented in...