Movies starring Patricia Rae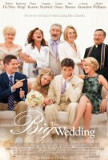 Big Wedding, The
Despite being adapted from a generally well-liked French film, The Big Wedding feels like nothing more ambitious than a big screen sit-com. It's tired and dated with too few laughs to justify the stultifying attempts at drama and the impossible-to-... Maria, Full of Grace
When applied to an animal, the term "mule" refers to a beast of burden - a slow, plodding, stupid creature whose sole asset is that it can transport large amounts of cargo without choice or complaint. When applied to a human being, the word means ...