Movies starring Ricardo Montalban Ant Bully, The
The Ant Bully is a sore disappointment to anyone hoping for a turnaround to the recent downward quality spiral of animated films. In fact, this movie may represent a new nadir for 3D animation. Although it's pretty enough to look at (although now...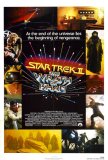 Star Trek II: The Wrath of Khan
In the wake of the somnambulant Star Trek: The Motion Picture, the fledgling Star Trek movie series was in need of some zest, which is exactly what The Wrath of Khan provided. While retaining the thematic elements of the late-'60s TV series an...