Movies starring Sarah Roemer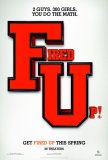 Fired Up!
They might as well have called this Cheer Movie. About the only thing to differentiate this dud of a comedy from the likes of Date Movie, Epic Movie, and Disaster Movie is the absence of the names Aaron Seltzer and Jason Friedberg on the credits.... Disturbia
Disturbia is a nice little mystery thriller that takes a wrong turn on the way to its climax and morphs into a slasher movie. This abrupt change in tone is as jarring as it is unwelcome and transforms what could have been an effectively tense conc...