Movies starring Telly Savalas Dirty Dozen, The
More than 30 years after its initial release, The Dirty Dozen remains one of the most popular war films ever to grace the silver screen - a reputation that not even three bad made-for-TV sequels in the late '80s could tarnish. A quintessential "gu...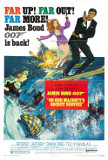 On Her Majesty's Secret Service
With the exception of one production aspect, On Her Majesty's Secret Service is by far the best entry of the long-running James Bond series. The film contains some of the most exhilarating action sequences ever to reach the screen, a touchin...