Movies with cinematographer Barry Markowitz Apostle, The
For Robert Duvall, The Apostle was a labor of love. It is said that every man or woman has at least one story to tell; this is Duvall's. The film was in the making for over a decade, and, when no studio bought into it, Duvall put up the money...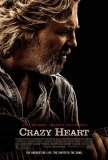 Crazy Heart
Crazy Heart is the country music version of The Wrestler: a grizzled veteran whose days in the spotlight are behind him struggles to keep going while seeing the world through a haze of regret and booze. The story is unremarkable; the alcoholic com... Sling Blade
Sling Blade, the directorial debut of actor/writer Billy Bob Thornton (who scripted One False Move and A Family Thing), is a fascinating examination of a damaged man's quest to make restitution for his past crimes. To a lesser extent, it also offe... Two Girls and a Guy
When considering a title like Two Girls and a Guy, one can be forgiven for expecting something a little risqué. (In fact, a friend of mine quipped, "I didn't think you reviewed movies like that.") Add to that the swirl of controversy regarding t...