Movies with cinematographer Ramsey Nickell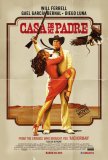 Casa de Mi Padre
Whatever Will Ferrell may or may not be, one can never accuse him of lacking balls. The decision to release Casa de Mi Padre, Ferrell's latest starring vehicle, entirely in Spanish with subtitles, will be an acid test as to whether the actor's popu... Chaos Theory
I have a strong dislike for artificial drama - stories where the so-called "characters" are little more than pawns for the screenplay to move around like pieces on a chess board. Such is the unfortunate case with Chaos Theory, a bogus and unconvin... Pretty Persuasion
Pretty Persuasion opens with more promise than it closes with. It doesn't take long for the cattily satirical tone to become monotonous as the characters refuse all attempts at development and the plot treads water into the shallows. The film tri...