Movies directed by John Turturro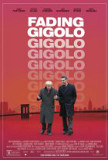 Fading Gigolo
Everyone knows John Turturro as an actor. After starting out his career during the early 1980s, he became a regular in movies made by Spike Lee and The Coen Brothers. He has worked for Martin Scorsese, Woody Allen, and Robert Redford. And, when he ... Mac
In 1954 Queens, New York, three brothers -- Mac (John Turturro), Vico (Michael Badalucco), and Bruno (Carl Capotorto) -- after having a few bad experiences working for others, decide to band together and create their own construction business. The... Romance and Cigarettes
Sometimes, it's virtually impossible to understand how things work in Hollywood. Crap like Captivity and Norbit get releases while offbeat, enjoyable productions like Romance and Cigarettes languish. The film received its world premiere two years...