Movies directed by Marc Lawrence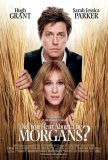 Did You Hear about the Morgans?
Did You Hear about the Morgans? Yes and, to be perfectly frank, I wish I had been spared the experience. I'm gullible. I'll buy just about any premise Hollywood is selling, provided it is sold well. Did You Hear about the Morgans? proves thes... Music and Lyrics
One would be justified in approaching Music and Lyrics with a certain amount of skepticism, considering that its writer/director, Marc Lawrence, is perhaps known for foisting two Miss Congenialitys upon the world (although to be fair, he didn't dir... Two Weeks Notice
What can I write about Two Weeks Notice that I haven't written about every mediocre romantic comedy to come down Hollywood's pipeline? There's the cotton candy comparison – the movie is sweet (sometimes too sweet) and airy, with so little substa...