Movies directed by Mike Binder Upside of Anger, The
Now that Kevin Costner has grown too old to convincingly play a baseball star (even an aging Major Leaguer, as in For Love of the Game), he has progressed logically. In The Upside of Anger, he portrays an ex-Detroit Tiger whose life has deteriorat...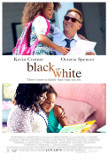 Black or White
There could be no more timely subject matter for a movie in early 2015 than race relations in America. Black or White, a sporadically insightful movie from Mike Binder, approaches some of these issues head-on without flinching or resorting to hysteri... Reign over Me
Reign Over Me has the best of intentions but, despite its desire to show how the perseverance of a good man can produce profound results, it bungles the attempt. This is a shameless and clumsy tearjerker - a film that inadvertently comes across as...