Movies starring Adam Sandler 50 First Dates
50 First Dates offers viewers a kinder, gentler Adam Sandler. Gone (at least for one movie) is the narcissistic adolescent caught in a perpetual state of arrested development. In his place is a likeable goofball whose rough edges are worn off by ...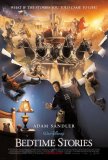 Bedtime Stories
For Adam Sandler, who has lived most of his on-screen life in the realm of PG-13, Bedtime Stories represents a new direction: family friendliness. With his characteristic sarcasm dialed down and his profanity and sexual humor nearly absent, Sandle...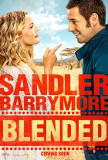 Blended
Certain expectations accompany any Adam Sandler film, although expectations have morphed over the years as Sandler has aged and attempted to broaden his target audience. Many of his best films, such as Paul Thomas Anderson's Punch Drunk Love, have ... Click
We know from experience that Adam Sandler has a fondness for Frank Capra. After all, is there anything odder than watching Sandler channel Gary Cooper in a remake of Mr. Deeds (Goes to Town)? Actually, there is. It's watching Sandler channel Jim...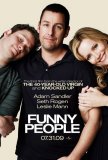 Funny People
It's written and directed by Judd Apatow and stars Adam Sandler and Seth Rogan, so it must be funny, right? The problem with expectations is that they can lead to disappointment. That's not to say Funny People is devoid of humor - in fact, there ...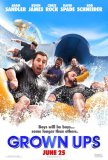 Grown Ups
Sometimes even a high profile movie can surprise you. Take Grown Ups, for example. Based on the advance promotional material, this didn't look like the kind of production likely to end Adam Sandler's streak of unremarkable star vehicles (Funny Pe... Happy Gilmore
When it comes to golf comedies (not a very popular genre, apparently), the film residing at the dubious pinnacle is Rodney Dangerfield's Caddyshack. Happy Gilmore, the new release featuring Saturday Night Live alum Adam Sandler, tries gamely to att...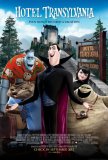 Hotel Transylvania
Not since Abbott and Costello Meet Frankenstein have the great Universal monsters been subjected to such dismal treatment. Okay, maybe Van Helsing was a greater embarrassment. Hotel Transylvania is an animated monster movie for older kids (in the ... I Now Pronounce You Chuck and Larry
It would be interesting to know what contribution (if any) credited screenwriter Alexander Payne (Election, Sideways) made to the final draft of I Now Pronounce You Chuck and Larry. Except for the cloying, strident preachiness of the third act, th...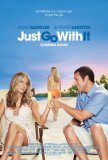 Just Go with It
The experience of sitting through Just Go with It, Adam Sandler's umpteenth comedy directed by good buddy Dennis Dugan, is akin to watching a bad sit-com that never ends. With some TV shows, commercial breaks provide welcome relief from the monoton...