Hotel Transylvania (United States, 2012)
September 29, 2012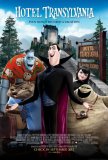 Not since Abbott and Costello Meet Frankenstein have the great Universal monsters been subjected to such dismal treatment. Okay, maybe Van Helsing was a greater embarrassment. Hotel Transylvania is an animated monster movie for older kids (in the 7-9 year old age range) that is probably a little too saccharine for adults to enjoy. Considering the talent involved, this is surprising. Screenwriter Robert Smigel is a longtime Saturday Night Live vet. Co-scripter Peter Baynham is a collaborator of Sacha Baron Cohen (his credits include Borat and Bruno). Director Genndy Tartakovsky is best-known for his work on the animated TV programs Samurai Jack and The Clone Wars (first iteration). Perhaps the influence of Adam Sandler has overridden everything. Hotel Transylvania has the feel of a Sandler movie, albeit one that has been cleaned up for a PG audience. Unlike smart animated movies, this one contains little that could be mistaken as sophisticated or mature. It's juvenile from start to finish, which is fine if you're young, but not so great if your sole purpose in a theater is to accompany someone who's young.
The premise is not without promise. As the monsters see it, we're the villains. From their perspective, they have been persecuted and hunted to extinction by men. Count Dracula (voice of Adam Sandler), after losing his wife in a human attack on his castle, has fled to Transylvania with his young daughter, Mavis (Selena Gomez). There, he builds Hotel Transylvania, a high end retreat for monsters only, where they can take a vacation without fear of being hounded by men. Frequent guests include Frankenstein (actually Frankenstein's Monster, voiced by Kevin James), The Wolfman (a.k.a. Wayne, voiced by Steve Buscemi), and The Mummy (a.k.a. Murray, voiced by CeeLo Green). They have all gathered to celebrate Mavis' 118th birthday. During the celebration in wanders a human boy, Jonathan (Andy Samberg). Rather than killing him, because he no longer does that sort of thing, Dracula does his best to hide the lost backpacker from the hotel's clientele by disguising him as Frankenstein's cousin. Unfortunately for the accented vampire, Jonathan meets Mavis and sparks fly.
The central theme of Hotel Transylvania is one kids will relate to better than their mothers and fathers: in order for children to become adults, parents have to learn to let go. This is conveyed with sledgehammer subtlety and surprisingly little humor. In fact, the level of comedy is disappointingly bland, with jokes one can acknowledge as being mildly clever but little that provokes more than a good natured grin. The only time I laughed aloud was when the film took a jab at Twilight. And no, vampires in this world don't sparkle, but they don't burn up when subjected to direct sunlight quite as fast as one might expect.
Tartakovsky's style, with its strong lines and vertical emphasis, makes for an interesting way to interpret the classic monsters and the film never loses its visual appeal (there are some typical 3-D "moments" for those who choose to waste their money). There's nothing groundbreaking in the way the creatures are visualized, although there's a little Sandler in Dracula's features, a little James in Frankenstein, and a little Buscemi in the Wolfman.
Adam Sandler's Dracula is intentionally over-the-top, borrowing not so much from Lugosi as from bad impressions of Lugosi. In fact, the inspiration is more Count Chockula than Bram Stoker. Kevin James' Frankenberry - err, Frankenstein - talks pretty much like James, although his voice isn't as immediately identifiable as, say, Steve Buscemi's. Andy Samberg uses a slacker accent to good effect - not even his #1 fan would know him without advance knowledge of his participation. Unfortunately, although Jonathan is supposed to be a likeable, laid-back guy, I found him to be incredibly annoying. Selena Gomez's vocal work is generic. IMDb indicates the role was initially offered to Miley Cyrus and that casting wouldn't have changed anything. As a character, Mavis is one dimensional: the sheltered teen who wants her freedom. Her voice is cute and perky and not a whole lot else.
Hotel Transylvania has all the earmarks of second-rate animation that's being tossed into theaters in October with the idea of capturing the Halloween crowd. This is strictly kids' fare; the quality of the writing and performances assures there's little of interest for adults and even less for adults on the lookout for quality animation. With Pixar's recent slump and the determination of Dreamworks and Fox to funnel their efforts into animated franchises, there's a dearth of good animation available; Hotel Transylvania doesn't change that. It's just the latest insult to a venerable vampire who has experienced far too many over the years.
---
Hotel Transylvania (United States, 2012)
---
Three...better movies of this genre
worse movies of this genre
Three...better movies of (voices) Adam Sandler
(There are no more better movies of (voices) Adam Sandler)
worse movies of (voices) Adam Sandler
(There are no more worst movies of (voices) Adam Sandler)
Three...better movies of Andy Samberg
worse movies of Andy Samberg
(There are no more worst movies of Andy Samberg)
Three...better movies of Selena Gomez
(There are no more better movies of Selena Gomez)
worse movies of Selena Gomez
(There are no more worst movies of Selena Gomez)