Celeste and Jesse Forever (United States, 2012)
August 15, 2012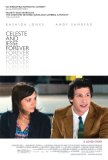 Celeste and Jesse Forever wants to be marketed as an "anti-romantic comedy," but, despite its somewhat unconventional storyline, it's very much about what draws people together into relationships and what pulls them apart. It explores the reality of true love and the impossibility of love being enough. And, despite flouting Hollywood clichés, it nevertheless manages to be both romantic and funny even though it starts with the separation of the main couple.
The tone established by director Lee Toland Krieger is flippant when it needs to be, ironic when it needs to be, playful when it needs to be, and serious when it needs to be. Toland skates cleanly from comedy to drama and back again without losing his balance. Some of the credit goes to the fresh screenplay by Rashida Jones and Will McCormack (both of whom appear on-screen) but a lot of Celeste and Jesse Forever's success can be attributed to the chemistry evident between Jones and Andy Samberg, who shows far more subtlety as an actor than one might suspect based on his long Saturday Night Live history.
The movie has no villains and that's a huge plus. We're not forced to dislike certain characters because their sole purpose is to mess up the central love story. As the story begins, Jesse (Samberg) and Celeste (Jones) have already accomplished that on their own. After years as sweethearts and a stint as husband-and-wife, they have decided to sever all legal ties. Yet they remain close friends, still laughing at each other's jokes, living on the same property, and being available for sex when they've had a little too much to drink. They remain in love, although they are unwilling to admit it even to themselves, and neither is able to move on. Their best friends, Beth (Ari Graynor) and Tucker (Eric Christian Olsen), recognize the strangeness of the situation - they think it's weird that two people headed for divorce could be happier together than the average newlywed couple.
Jesse is convinced this will all pass, that he and Celeste are destined to be together. Soul mates, and all that... She, on the other hand, believes the romantic component of their relationship is over. The tables are turned, however, when Jesse announces that he is having a baby with Veronica (Rebecca Dayan), a one-night stand who turns into something profoundly more than that. Suddenly, Celeste realizes that she wants Jesse back, although he is no longer available. Her life begins to spiral out of control and she finds herself unable to enjoy herself with Paul (Chris Messina), the one man who might be able to fill the void left by Jesse's departure.
Most movies prefer to reduce love and romance to simple motions: meet cute, fall for one another, encounter complications, conquer them, and live happily ever after. Celeste and Jesse Forever recognizes that the story doesn't end with the wedding. In fact, this one begins years after that happy day. The film recognizes that love is powerful but it's not everything. The movie is at its best when it wallows in bittersweetness. Celeste and Jesse Forever never loses its sense of humor, but there are scenes dripping with longing and regret. On more than one occasion, these characters can look back and say "if only." But time is a one-way street where second chances are rare. We suspect these two will find happiness but we don't know whether it will be with one another.
The screenplay is not without problems. The biggest relates to a subplot featuring a teen idol played by Emma Roberts who has become a client of Celeste's marketing firm. Not only is Roberts' character woefully underdeveloped but her interaction with Celeste feels contrived - strange considering how well most of the film's other relationships are developed. Also, Celeste's alcohol-fueled implosion at Beth and Tucker's pre-wedding party feels like it belongs in some other, less sophisticated movie. It's like an outtake from Bridesmaids. The rest of the humor is generally more low-key, garbage can diving excepted.
Samberg and Jones are both well-established on the small screen. Samberg was a mainstay on Saturday Night Live for seven seasons and Jones is one of the stars of Parks and Recreation (she also had a recurring role on The Office). Neither has a surfeit of big-screen experience, but it doesn't show here. Both are likeable and, most important, comfortable with each other. As I wrote earlier, there are no villains, so there's no requirement for any of the supporting performers to don a black hat. There's a chummy feeling among the cast; the film is exceedingly easy to consume and digest. Even during its serious moments, it's comfortable. That's something to be valued at a time when too many comedies are trying to one-up one another in making viewers as uncomfortable as possible.
---
Celeste and Jesse Forever (United States, 2012)
---
Three...better movies of this genre
worse movies of this genre
Three...better movies of Rashida Jones
(There are no more better movies of Rashida Jones)
worse movies of Rashida Jones
Three...better movies of Andy Samberg
(There are no more better movies of Andy Samberg)
worse movies of Andy Samberg
Three...better movies of Ari Graynor
(There are no more better movies of Ari Graynor)
worse movies of Ari Graynor