Movies directed by Nicole Kassell Woodsman, The
Note: This review contains spoilers. If you wish to have a virgin movie-going experience, return to the review after having seen the film. For obvious reasons, there aren't many movies about pedophiles or pedophilia. To date, the best-known of ...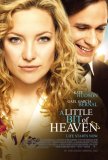 Little Bit of Heaven, A
One of my fears when watching movies about characters coping with cancer is that they will turn into Lifetime disease-of-the-week melodramas: shallow, plot-by-numbers chronologies of the disease's progression that become either manipulative tear-je...