Movies directed by Ralph Fiennes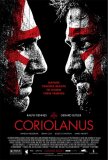 Coriolanus
Perhaps the biggest surprise with Coriolanus is the non-involvement of Kenneth Branagh who, for the better part of the last 20 years, has been engaged in seemingly every screen adaptation of a Shakespeare play (an exaggeration, but still...). At th...
Invisible Woman, The
Author Charles Dickens was enough of a celebrity to excite the interest of the gossip press of his day. Recognizing this, Dickens was careful to keep the nature of his relationship with young actress Ellen Ternan as far from the spotlight as possib...