Movies directed by Richard Lagravenese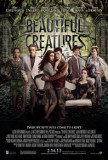 Beautiful Creatures
Beautiful Creatures is the latest attempt by a Hollywood studio to cash in on the popularity of a YA (Young Adult) series. In this case, instead of vampires and werewolves, it's witches and warlocks. When it comes to romance and interpersonal inter... Freedom Writers
The key to making a successful formula motion picture is to infuse it with energy and add a few original elements. The overall product might seem familiar but that doesn't mean it can't be an enjoyable viewing experience. This is true regardless ... P.S. I Love You
If you want an insightful movie about the grieving process, check out Grace Is Gone, which explores how a suddenly single father must cope not only with the loss of his wife but must face telling his daughters that their mother is not coming home. ...