Movies directed by Scott Frank Lookout, The
The Lookout is an effective little thriller that almost works from taut beginning to unspectacular end. The premise is interesting and the story is developed in such a way that the viewer is engaged throughout. The opening scene hooks us and the ...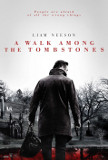 Walk Among the Tombstones, A
Nihilistic. Grim. Humorless. Misogynistic. Those are just a few words that could be used to describe Liam Neeson's new thriller, A Walk Among the Tombstones. The title provides more than a clue about the movie's tone and intentions. Yet this isn't...