Movies with music written by Jo Hisaishi
My Neighbor Totoro
What is it about Hayao Miyazaki's My Neighbor Totoro that makes it such a pleasant, immersive experience? Unlike just about any other animated film (including the other titles in Miyazaki's impressive oeuvre), My Neighbor Totoro contents i...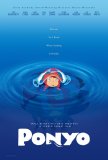 Ponyo
In some ways, watching Ponyo, the latest effort from Japanese master animator Hayao Miyazaki, is like taking a trip back into time. These days, everything to come out of American animated houses is computer-generated and/or 3-D. Gone are the tim... Princess Mononoke
For many years, Walt Disney and his army of crack artists dominated the world market for feature-length animation, bringing forth unforgettable classics like Snow White and the Seven Dwarves, Sleeping Beauty, and Pinocchio. Even today, many North ... Spirited Away
To animators across the world, Hayao Miyazaki is a god. Within the animation community, his work is revered, and fans of "anime" (Japanese animation) await each new Miyazaki film with the same degree of ill-concealed impatience as displayed by...