Movies with music written by Paul Englishby Confetti
Confetti is an excellent study of what happens when someone botches Christopher Guest's mockumentary format. A supposed satire of extravagant weddings and reality shows, Debbie Isitt's feature displays little in the way of wit or insight. It's lo...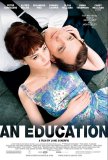 Education, An
What happens when you combine a star-making turn by a young actress with a supporting cast of an unimpeachable pedigree and a screenplay by Nick Hornby (High Fidelity, About a Boy)? The result, shepherded to the screen by Danish-born filmmaker Lon... Miss Pettigrew Lives for a Day
Amy Adams must enjoy fairy tales - this is the second one in which she has appeared during the last six months. Although Miss Pettigrew Lives for a Day differs substantially in many key areas from Enchanted, both movies are anchored by Adams, whos...