Movies with screenplay written by Chris Carter X-Files, The
There are two kinds of viewers for The X-Files movie: those have seen at least a few episodes of the TV series and those who have never watched it. I am a member of the latter group, so that's the perspective from which this review is written. ...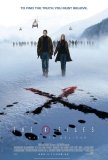 X-Files, The: I Want to Believe
One would expect that the title of the second X-Files movie, I Want to Believe, reflects the hope of fans worldwide about this production. They want to believe that, even six years after the sell-by date has expired, these characters can still be ...