Movies with screenplay written by Marc Lawrence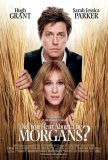 Did You Hear about the Morgans?
Did You Hear about the Morgans? Yes and, to be perfectly frank, I wish I had been spared the experience. I'm gullible. I'll buy just about any premise Hollywood is selling, provided it is sold well. Did You Hear about the Morgans? proves thes... Miss Congeniality
If there were lingering doubts that the time has come to write an obituary for Sandra Bullock's days as a leading lady, Miss Congeniality should dispel them. Trailing in the wake of a string of duds, the most recent of which were the un-releasable... Miss Congeniality 2
I can understand a sequel to Star Wars. Or Superman. Or The Matrix. Or even Before Sunrise. But Miss Congeniality? Are Hollywood's executives so greedy and creatively bankrupt that they will take any property that made a tidy profit and churn o... Music and Lyrics
One would be justified in approaching Music and Lyrics with a certain amount of skepticism, considering that its writer/director, Marc Lawrence, is perhaps known for foisting two Miss Congenialitys upon the world (although to be fair, he didn't dir... Two Weeks Notice
What can I write about Two Weeks Notice that I haven't written about every mediocre romantic comedy to come down Hollywood's pipeline? There's the cotton candy comparison – the movie is sweet (sometimes too sweet) and airy, with so little substa...