Blindspotting (United States, 2018)
July 26, 2018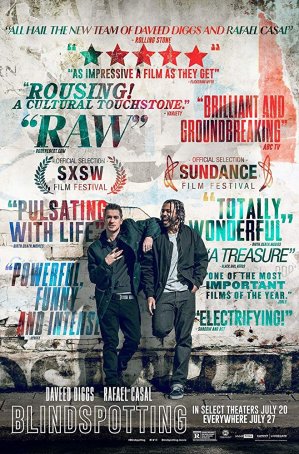 Sometimes, within the bubble of film festival, a well-liked film can become a hot property. That may have been the case with Blindspotting, one of Sundance 2018's darlings which is finally reaching theaters in the vacuum left by the departing summer blockbusters. Don't misunderstand: Blindspotting is a compelling film with much to say about subjects like gentrification and race – things it approaches with a mix of wit and seriousness. However, when it comes to punctuating a core theme of the Black Lives Matters movement, it falls short of the gut-punch delivered by a film such as Fruitvale Station. The movie deserves praise and is worth seeing but the buzz surrounding it has escalated into the realm of hyperbole.
In reading discussions about Blindspotting, one word that frequently comes up is "absurd" – the film is a mixture of the serious and the absurd. That's a reasonable description of the tone and approach. It illustrates how the characters' perspectives, mutated by their circumstances and the way the city of Oakland is shifting around them, are warped and out-of-synch. There's a surreal element to all of this and the film's director, Carlos Lopez Estrada, works diligently to amplify it. There are times when he overreaches – most notably during the climax – but it works more often than not.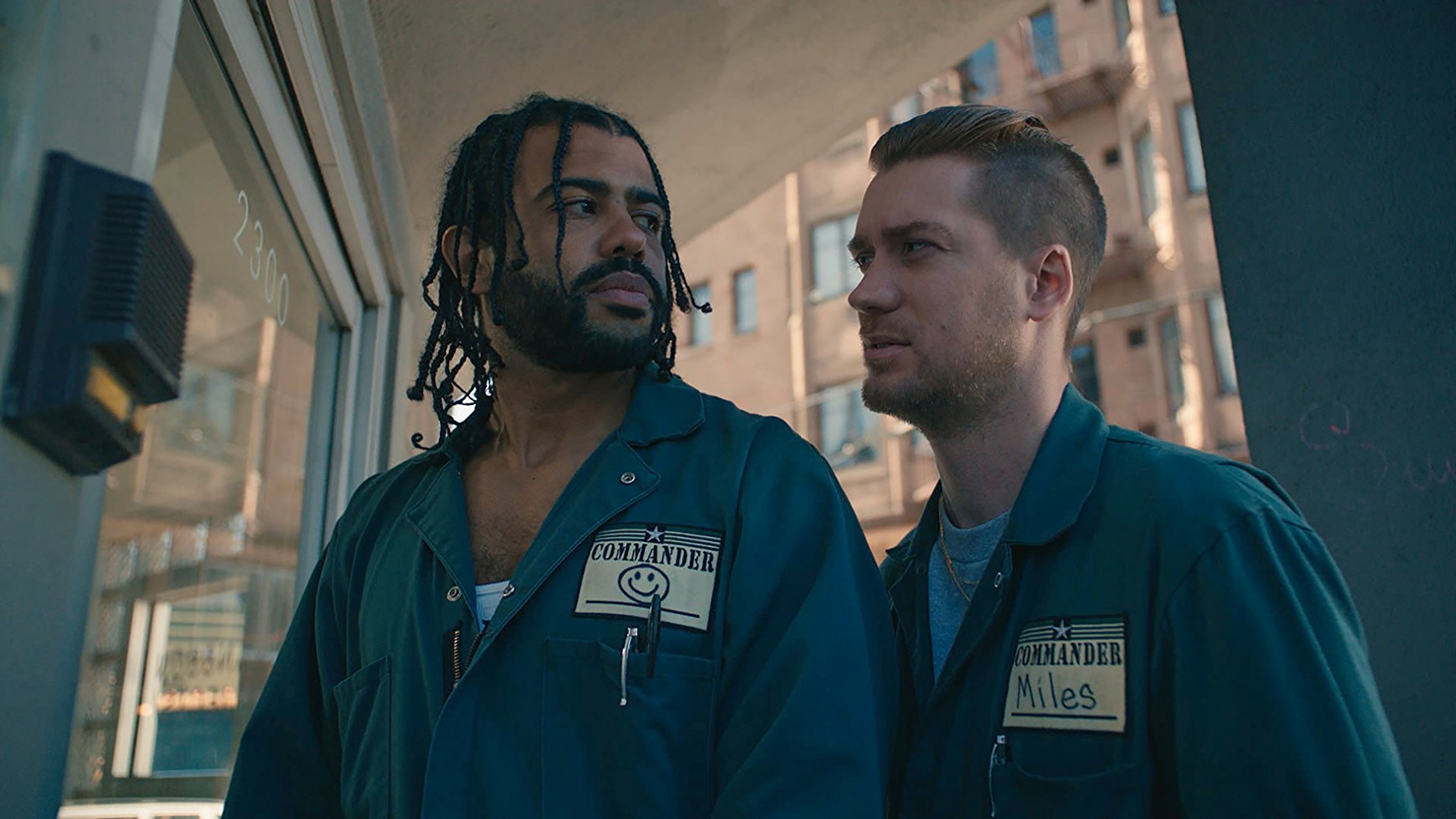 Blindspotting follows the misadventures of two long-term friends, Collin (Daveed Diggs) and Miles (Rafael Casal). Collin, after having served time for his part in a beating, is three days away from the end of his probation. As a result, he is ultra-cautious about his actions since seemingly every circumstance in which he finds himself is tailor-made to send him back inside. Miles, on the other hand, is a loose cannon. A white guy living in a mostly-black neighborhood with a black best friend and a black girlfriend (Jasmine Cephas Jones), Miles is a living example of cultural appropriation. He doesn't see this, of course, as he rails against the "hipsters" gentrifying Oakland.
Collin receives a jolt to the system when, late one night driving back to the halfway house where he's staying, he witnesses a policeman shoot a seemingly unarmed black man in the back. Despite being a witness in a matter "under investigation," he doesn't come forward. When asked why, he states the obvious: he's a black man with a felony record on probation – not an ideal situation. Meanwhile, he takes steps to repair a relationship with his girlfriend, Val (Janina Gavankar), while acting as a babysitter for the volatile Miles, whose spur-of-the-moment decision to buy a gun "for protection" has serious implications.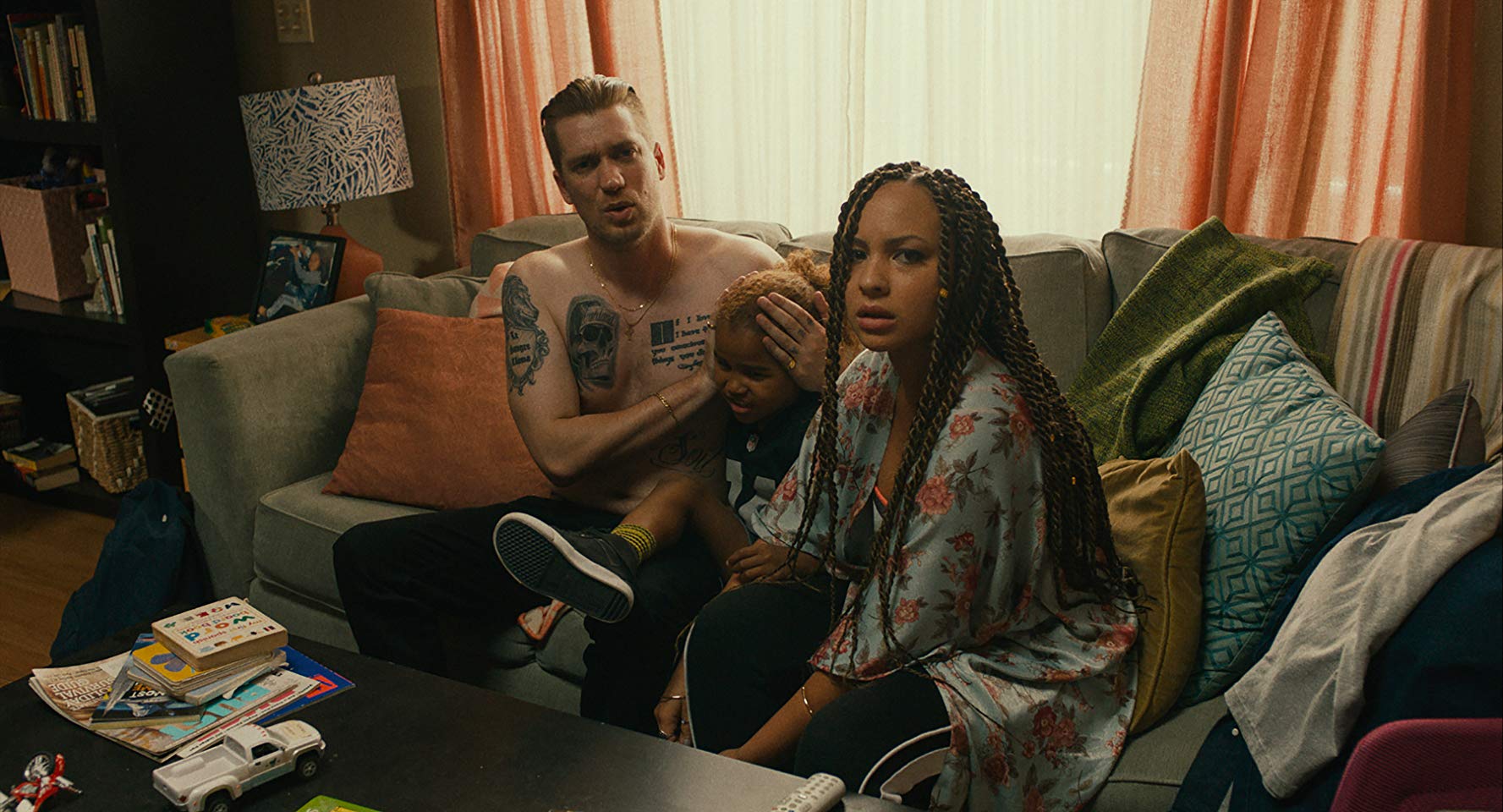 Blindspotting is a mixture of the authentic, the farcical, and the incongruous. Although not really a comedy, there are scenes – like one in which a guy with no fewer than six guns hidden in souped-up car admits to being an Uber driver – that court laughter. Estrada uses a deftness of touch to lighten what is at heart a serious movie. There are times, however – sometimes in seemingly simple situations – when Blindspotting abandons its flippancy in favor of bursts of intensity. The most obvious of these comes during the climax but there's an earlier scene involving a child that, at least for me, left a stronger impression.
There's no doubting the audacity of how a key late sequence is presented. Instead of using what might be considered a "traditional" approach, Estrada, Casal, and Diggs opt for something unconventional. "Unconventional," however, doesn't necessarily mean "successful." The choice related to Collin's dialogue is artificial. It italicizes performance over character, potentially pulling the viewer out of the movie. My reaction isn't universal (the scene has divided audiences) but how an individual receives that scene will likely be a difference-maker between labeling Blindspotting as masterful and perceiving it as "merely" thought-provoking.
---
Blindspotting (United States, 2018)
---

Three...better movies of this genre
worse movies of this genre
Three...better movies of Daveed Diggs
(There are no more better movies of Daveed Diggs)
worse movies of Daveed Diggs
(There are no more worst movies of Daveed Diggs)
Three...better movies of Rafael Casal
(There are no more better movies of Rafael Casal)
worse movies of Rafael Casal
(There are no more worst movies of Rafael Casal)
Three...better movies of Janina Gavankar
(There are no more better movies of Janina Gavankar)
worse movies of Janina Gavankar
(There are no more worst movies of Janina Gavankar)