Fruitvale Station (United States, 2013)
July 23, 2013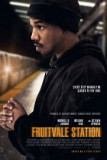 Many times, the best feature debuts come from filmmakers who explore subjects about which they have a passion. With Ryan Coogler, the fire burns for Oscar Grant, a 22-year old who was shot while in police custody during the early morning hours of New Year's Day 2009. The events, which occurred at the Fruitvale Station stop of the Bay Area's BART line, sparked international outrage when cellphone video showing the incident made its way on line. For the movie, Coogler has stayed close to the historical record, although some pundits have argued that he softens the rough edges of Grant's character to make the protagonist more sympathetic. By using a fly-on-the-wall approach, Coogler is able to tell his story in a straightforward style that gets the message across without seeming preachy. With the film hitting theaters in the wake of the George Zimmerman trial verdict, the questions Fruitvale Station asks about race have a heightened relevance than when the movie won both the Grand Jury Prize and the Audience Award at the 2013 Sundance Film Festival.
Fruitvale Station opens with about a minute of actual footage of events that night on the platform. The rest of the movie is a dramatization of the last day in the life of Oscar Grant (Michael B. Jordan). Until the final fifteen minutes, nothing dramatic happens to him. He's trying to get a legitimate job to avoid having to return to selling drugs, an offense for which he is currently on parole. He spends time with his girlfriend, Sophina (Melonie Diaz), and their four-year old daughter, Tatiana (Ariana Neal). Since it's his mother's (Octavia Spencer) birthday, he and his family attend her party. Then he drops off Tatiana at his sister-in-law's so he, his friends, and Sophina can head into San Francisco to see the fireworks.
Coogler infuses Fruitvale Station with an existential flavor. Because we in the audience are privy to how the story will end, every seemingly inconsequential action takes on a larger meaning. Many times when Oscar does something, it's his "last." Especially poignant is the moment when he says goodnight to Tatiana before departing on the journey from which he won't return. To them in the moment, it's just an ordinary goodbye kiss (with Oscar promising to take her to Chuck E. Cheese the next day). To us, it's their farewell.
Coogler's use of hand-held cameras adds a roughness to the proceedings that could not have been achieved through the use of more traditional cinematography. He avoids anything that might make Fruitvale Station seem slick or polished. He doesn't want this to turn into a manipulative melodrama. In the end, the movie is less about Oscar than it is about his death. Our picture of the man is incomplete but the chronology of his last moments is not. Fruitvale Station makes a compelling statement about race relations in America during the early part of the 21st century. It also depicts yet another incident of police brutality. But some aspect of Oscar the person becomes submerged beneath Oscar the icon. Of course, there's a reason behind this: had Oscar not been killed that night in that manner, no one outside his immediate circle would have known his name.
Much credit goes to lead actor Michael B. Jordan for his strong portrayal of the lead character. He gives Oscar presence and dignity. In supporting roles, Melonie Diaz and Octavia Spencer are also solid, allowing us to see Oscar in family-related circumstances that offer a perspective of a different side of his personality. If there's one scene that goes a little too far in painting Oscar as a "good guy," it's the scene in the grocery store where he helps out a woman trying to decide what fish to buy. Of all the material in Fruitvale Station, this is the only scene that rings false.
Fruitvale Station may well be 2013's "little engine that could" to make it all the way from a limited July release to capture an Oscar nomination. It's a compelling tale that offers the opportunity for reflection and discussion about issues that have never really gone away and continue to lurk in the cultural background. Some may see Fruitvale Station as political but, to me, it tells the story of a tragedy that should be seen as such no matter what a person's race, gender, creed, party affiliation, or religion might be.
---
Fruitvale Station (United States, 2013)
---
Three...better movies of this genre
worse movies of this genre
Three...better movies of Michael B. Jordan
worse movies of Michael B. Jordan
Three...better movies of Melonie Diaz
(There are no more better movies of Melonie Diaz)
worse movies of Melonie Diaz
Three...better movies of Octavia Spencer
worse movies of Octavia Spencer