Creed (United States, 2015)
November 22, 2015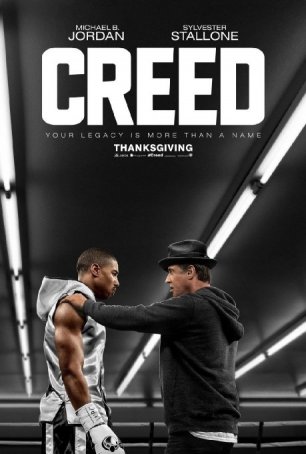 As movie-goers, we have become accustomed to seeing our screen heroes as immutable and immortal. This is in part the result of how film can freeze a moment. Humphrey Bogart will always look the way he does when saying "Here's looking at you, kid." John Wayne will never lose his swagger. Movie producers have helped to perpetuate this by making canny casting choices. There have been six James Bonds, two Captain Kirks, at least six Batmans, at least three Supermans, and so forth… But no matter how motion pictures argue against it, mortality comes for us all. And, in Creed, it has come for one of the most iconic figures of the 20th century: Rocky Balboa.
Rocky, played for the seventh (and last?) time by Sylvester Stallone, is a shadow of the boxer who went the distance against Apollo Creed 40 years ago. He has fought his last bout. At no point during Creed does he throw a punch or get in the ring for more than a light sparring session. His body is breaking down. All his friends and loved ones have moved on, either to the cemetery or elsewhere across the planet. As much as we might want to remember Rocky as the upstart who nearly beat the world's greatest boxer in 1976, Creed forces us to confront Rocky as he is in 2015.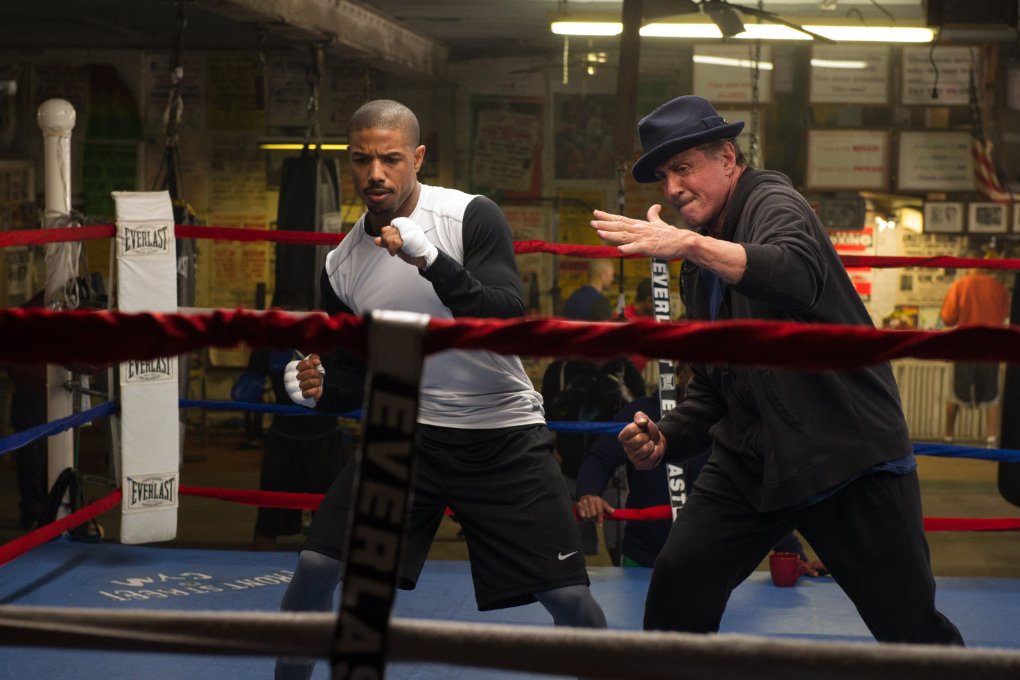 From the title, one might assume this movie is more about another boxer - Adonis (son of Apollo) Creed (played by Michael B. Jordan). That's true, but it's as much about Rocky as it is about Adonis. It's a study in contrasts with Creed's ascent plotted against Rocky's descent. For the latter, it's all about the past. For the former, it's the present and future. The movie potentially opens the book on one franchise while closing it on the other. Creed is crowd-pleasing in the way it illustrates the title character's trajectory but there's an unshakeable melancholy about the proceedings. We love Rocky but the Rocky we love is no more. It's a brave move by Stallone and director Ryan Coogler to go down this road. How many mainstream franchises have dared something like this?
The Rocky series has seen its share of highs and lows. The first installment is rightfully viewed as a classic - one of the best sports movies ever made. It has everything: heart, guts, glory, and offers a perfect testosterone-and-adrenaline cocktail. The four immediate sequels vary from being adequate popcorn entertainment to downright awful. They are at best unnecessary and at worst sad. Rocky Balboa, Stallone's 2006 "farewell" to the character, was well conceived and effectively executed - the first Rocky since the original that existed for reasons beyond making money. Creed avoids tainting Rocky Balboa by taking the narrative to the next logical level. Stallone, initially reluctant to sign on for this movie (having conceived Rocky Balboa as the fighter's final screen outing), agreed after hearing Coogler's pitch.
Adonis Creed never knew his famous father - Apollo died before his birth. Despite being the result of an extramarital affair, the boxing legend's wife, Mary Anne (Phylicia Rashad), rescued him out of the foster system and raised him as her own. Once into adulthood, Adonis has all the options open to him of a college-educated man but the lure of boxing is too strong to resist. After a while, small-time bouts in Mexico aren't enough, so he heads east to Philadelphia with the goal of being trained by Apollo's once-rival and later best friend, Rocky Balboa. At first, Rocky refuses but Adonis' persistence wins him over. And, as Adonis begins preparing for bigger fights with ranked opponents, he finds something he never expected: a romance with his downstairs neighbor, up-and-coming singer Bianca (Tessa Thompson).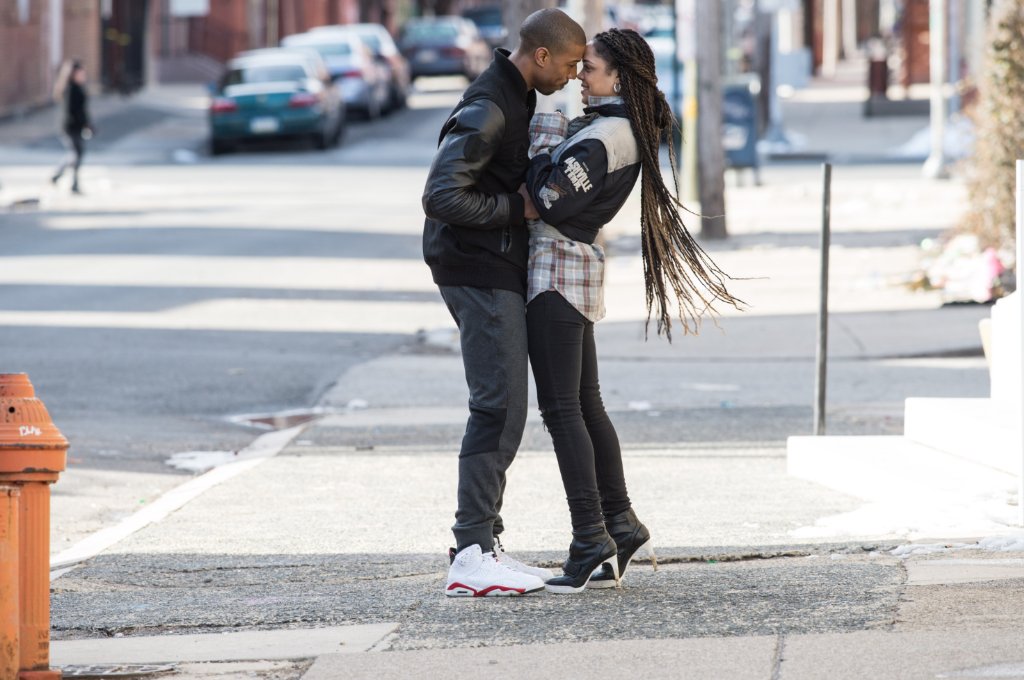 Perhaps one reason Creed feels more like Southpaw than Rocky is that, aside from Stallone's broken-down fighter, no one from any of the other films is present (for the most part, either the characters or the actors playing them are no longer around). This is in many ways a fresh start. But the Art Museum steps are still there and composer Ludwig Goransson crafts a theme for Creed that recalls "Gonna Fly Now" without aping it. Fans of the Bill Conti music can be reassured that Rocky's song isn't forgotten.
Although aspects of Creed are taken from the Boxing Movie 101 textbook, Coogler is not content with copying the visual style of his Rocky predecessors. His preference for long takes is evident throughout but nowhere is it more obvious than during Creed's first big fight, when the entire bout is shot without a break. The restlessly moving camera keeps the action in focus while moving to vary the perspective but without ever turning this into a shaky-cam affair. It's an effective way to generate tension and create a sense of immediacy.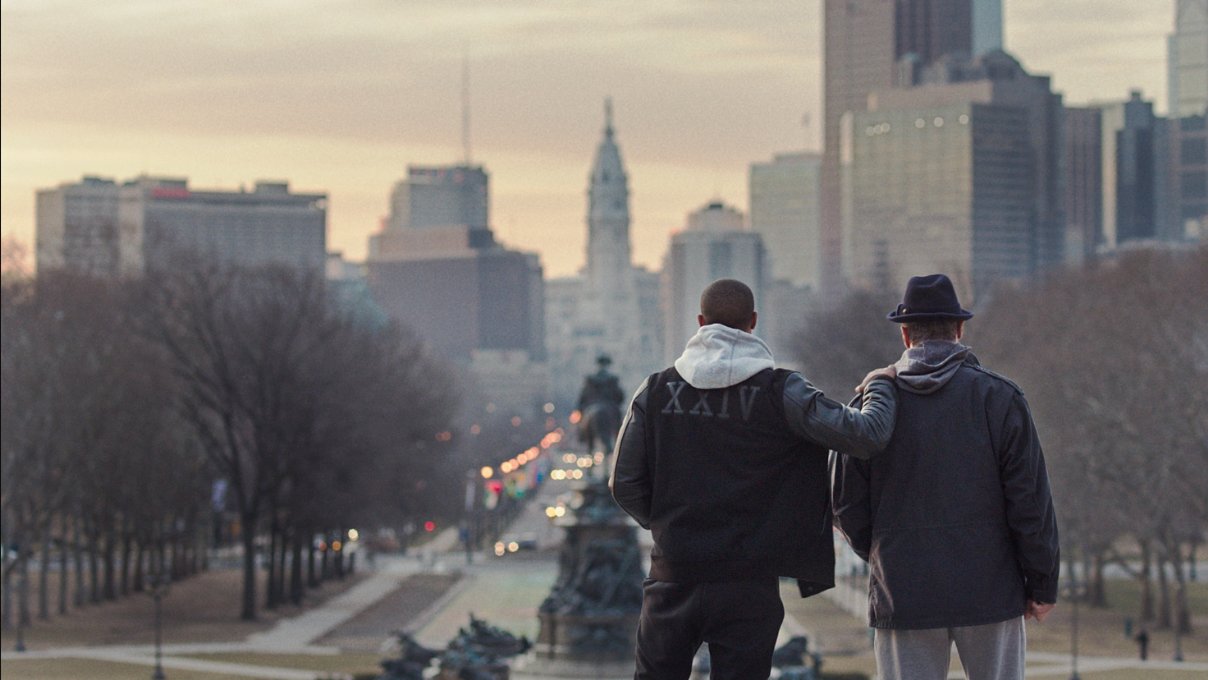 As the title character, Michael B. Jordan is re-united with his Fruitvale Station director, Coogler. Jordan is a good enough actor that he's able to provide heft to the dramatic scenes and be credible in the ring. Stallone, often ridiculed for his one-note portrayals, gives his best performance since Copland, astounding with the depth and sincerity of his work. With assists from the composer and cinematographer Maryse Alberti, Stallone makes Rocky's loneliness palpable. With Adrian and Paulie gone and his son Robert living elsewhere, Rocky has no one.
To the extent that Creed is a boxing movie, it delivers everything one expects from a film of the genre. The fights are well-staged and the climactic bout pits the protagonist against a suitably nasty opponent. Coogler provides enough rousing moments to get the adrenaline pumping - there are times when the urge to jump up and cheer is almost too strong to resist. But there's more to Creed and it is elevated by the quiet, subtle elements. Much as Rocky became a classic and won a Best Picture Oscar because of the importance of the Rocky/Adrian love story, so Creed advances to a higher orbit by focusing on the Adonis/Rocky relationship and the decline of a man once thought to be indomitable. 2015 has seen its share of sequels; perhaps surprisingly, Creed is among the best.
---
Creed (United States, 2015)
Ranked #9 in Berardinelli's Top 10 of 2015
---

Three...better movies of this genre
worse movies of this genre
Three...better movies of Michael B. Jordan
worse movies of Michael B. Jordan
Three...better movies of Sylvester Stallone
worse movies of Sylvester Stallone
Three...better movies of Tessa Thompson
worse movies of Tessa Thompson