Sorry to Bother You (United States, 2018)
July 11, 2018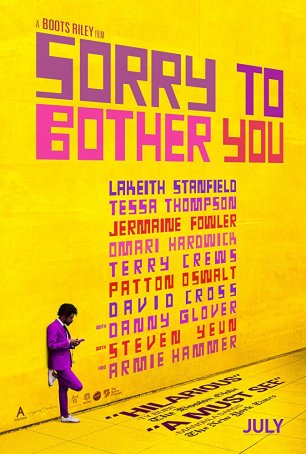 Sorry to Bother You may be 2018's answer to 2017's Get Out – an entertaining film with a strong socio-political subtext. At times very funny and occasionally outrageous, Sorry to Bother You defies expectations with a fresh take on surviving as a have-not in America. Although it runs out of steam in its final half-hour, the movie nevertheless makes points about race relations, white privilege, culture appropriation, and selling out. Like the little-seen 2004 mockumentary, Confederate States of America, Sorry to Bother You blends conventional comedy with political satire to produce a film that will generate laughter and a sense of discomfort in equal doses.
The primary story is a fairly straightforward fractured fairy tale of a man, Cassius Green (Lakeith Stanfield), who sells his soul for a chance at ascending into the 1%. When the movie opens, it would be generous to call Cassius "down on his luck." His fortunes are so bad that, when he goes to a gas station and asks to put in "40 at pump 2," he plunks down a quarter, a dime, and a nickel. His desperation for a job is so great that he lies on a resume to get a position at a call center. While working there, he is given a key piece of advice from old-timer Langston (Danny Glover): use his white voice. Suddenly, Cassius is the star of the call center, racking up a string of sales that get the attention of "upstairs" while also making him a prime target of Squeeze (Steven Yeun), who needs a "star" to help with his plan of unionizing the workforce.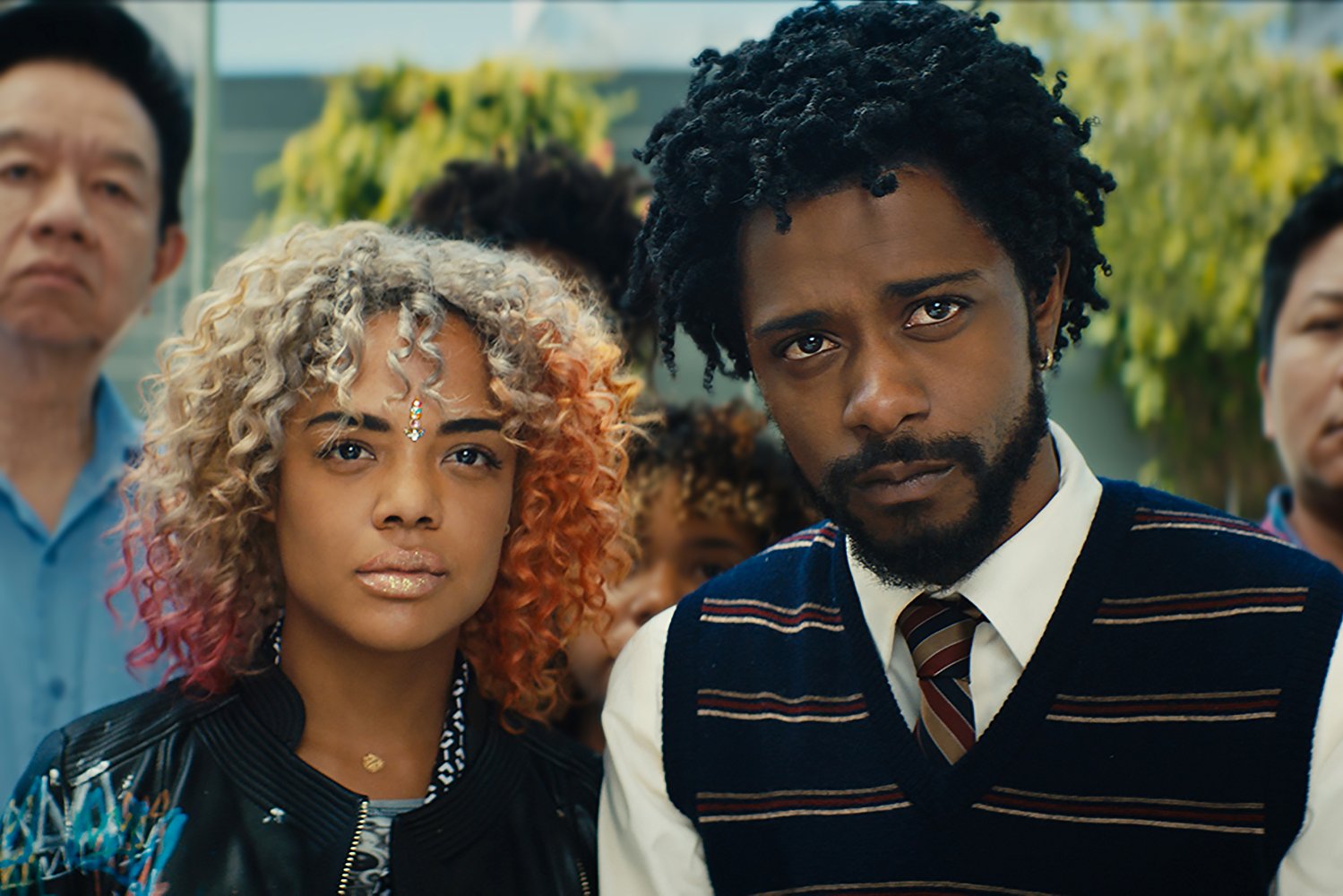 Success proves to be a mixed blessing for Cassius. His performance artist girlfriend, Detroit (Tessa Thompson), splits with him because she doesn't like what he's becoming. He gets new digs and starts to associate with new people. He uses his "white voice" (provided by David Cross) increasingly more often. And he gets to meet Steve Lift (Armie Hammer), the coke-snorting CEO of Worry Free Life, a corporation that offers people food and shelter in return for free labor. Cassius learns that the real money comes from working directly with Lift, but the price for doing so is an erosion of his character and a redirection of his moral compass.

Is Sorry to Bother You a brilliant, blistering satire of our times or an overwrought, obvious screed? Maybe a little of both. There's little doubt that the viewer's personal political/social leanings are going to go a long way toward determining how (s)he reacts to the message being peddled by writer/director Boots Riley (the leader of the hip-hop band The Coup). Riley isn't trying to be subtle and there's no way to merely pretend that this is a grown-up version of Can't Buy Me Love. Superficially, the film is about someone who "sells out" his principles and friends to achieve popularity and wealth, but the underlying themes are where Sorry to Bother You is going to gain adherents and opponents.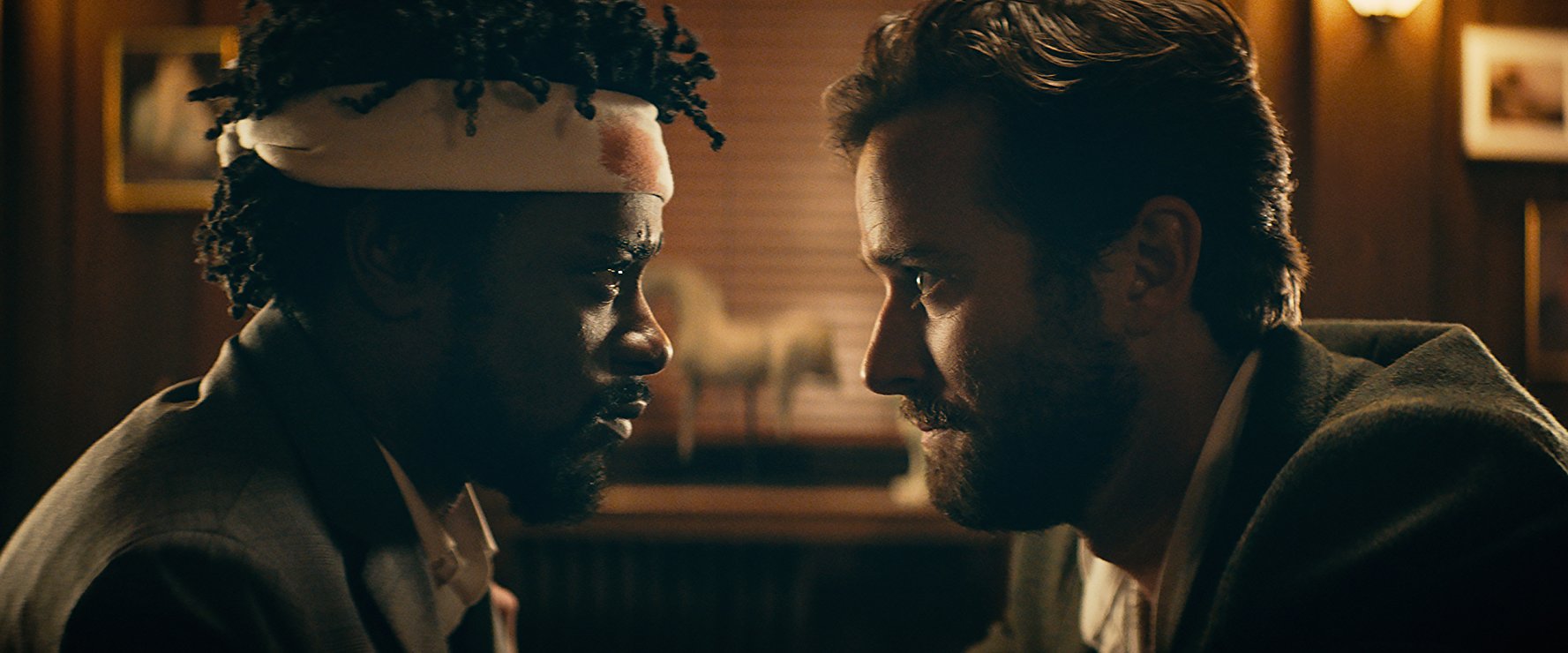 It's hard to call any portion of Sorry to Bother You "grounded," but the closer it sticks to a recognizable facsimile of reality, the more effective it is both in terms of its humor and satire. The call center scenes are effective, especially in the way Riley chooses to have Cassius literally "drop in" on the lives of the people he's calling. (On one occasion, he interrupts a couple having sex. On another, he enters a woman's life while she's coping with her husband's terminal illness.) Toward the end, Sorry to Bother You enters a bizarre science fiction twilight (involving genetic experimentation) and goes off the rails. By that point, it's more weird than funny and overly focused on reinforcing a message that earlier portions of the movie have presented more effectively.

Using his connections, Riley has assembled an impressive cast that features up-and-coming performers Lakeith Stanfeld, Tessa Thompson, and Jermaine Fowler. The "old school" is represented by Terry Crews and Danny Glover (who gets a chance to utter a slightly modified version of his signature line, "I'm too old for that shit.") Steve Yuen adds a little international flavor and Armie Hammer goes farther over the top than he has ever gone before. Is this the same guy who was so nuanced and controlled in last year's Call Me by Your Name?
Sorry to Bother You is going to divide audiences but that's not necessarily a bad thing. Although the production is too long and overreaches, it has a bizarre, crazy appeal that's difficult to shrug off. The movie delivers laughs – some big and several that are completely unpredictable – and retains its fresh feeling until well into the second half. The film isn't going to find fans among those who lean to the right but that's not a concern for Riley. He's making a statement and isn't concerned about those who are offended by it or made to feel uncomfortable. Sorry to Bother You is bold, messy, and scattershot – qualities that are infinitely preferable to the bland, generic safety preferred by many of today's box office entries.
---
Sorry to Bother You (United States, 2018)
Director:
Boots Riley
Cast:
Lakeith Stanfield
,
Tessa Thompson
,
Jermaine Fowler
,
Omari Hardwick
,
Terry Crews
,
Armie Hammer
,
Steven Yeun
,
Danny Glover
Home Release Date: 2018-10-23
Screenplay:
Boots Riley
Cinematography:
Doug Emmett
Music:
The Coup, Merrill Garbus, Boots Riley, Tune-Yards
U.S. Distributor: Annapurna Pictures
---

Three...better movies of this genre
worse movies of this genre
Three...better movies of Lakeith Stanfield
worse movies of Lakeith Stanfield
(There are no more worst movies of Lakeith Stanfield)
Three...better movies of Tessa Thompson
worse movies of Tessa Thompson
Three...better movies of Jermaine Fowler
(There are no more better movies of Jermaine Fowler)
worse movies of Jermaine Fowler
(There are no more worst movies of Jermaine Fowler)