Call Me By Your Name (Italy/France/Brazil/US, 2017)
December 08, 2017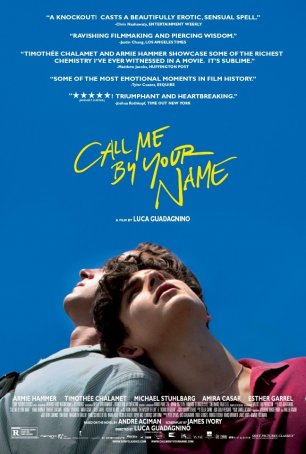 Call Me by Your Name, the latest film from Italian director Luca Guadagnino, is a study in mood and emotion. It's about living in the moment and capturing that moment. It's about using the canvas of film to convey to the audience the inner feelings of the characters. Call Me by Your Name is short on dialogue and long on emoting. It's a story of first love: impossible, impermanent, and passionate. It's about crossing thresholds, rejecting societal conventions, and allowing the heart to overrule the mind.
The film is set in the north of Italy during 1983. Guadagnino perfectly captures the lazy, hazy rapture of an endless summer, reminding us of simpler days when vacations were adventures and escapes, freed from structure and regimen. The romance that develops between Oliver (Armie Hammer) and Elio (Timothee Chalamet) couldn't have happened at any other time or in any other place. Same-sex relationships were outside norms in this era but, away from the centers of intolerance, the romance is allowed to develop: halting and uncertain at first, with missteps and miscommunications, then with all the explosive power of water gushing through a breached dam.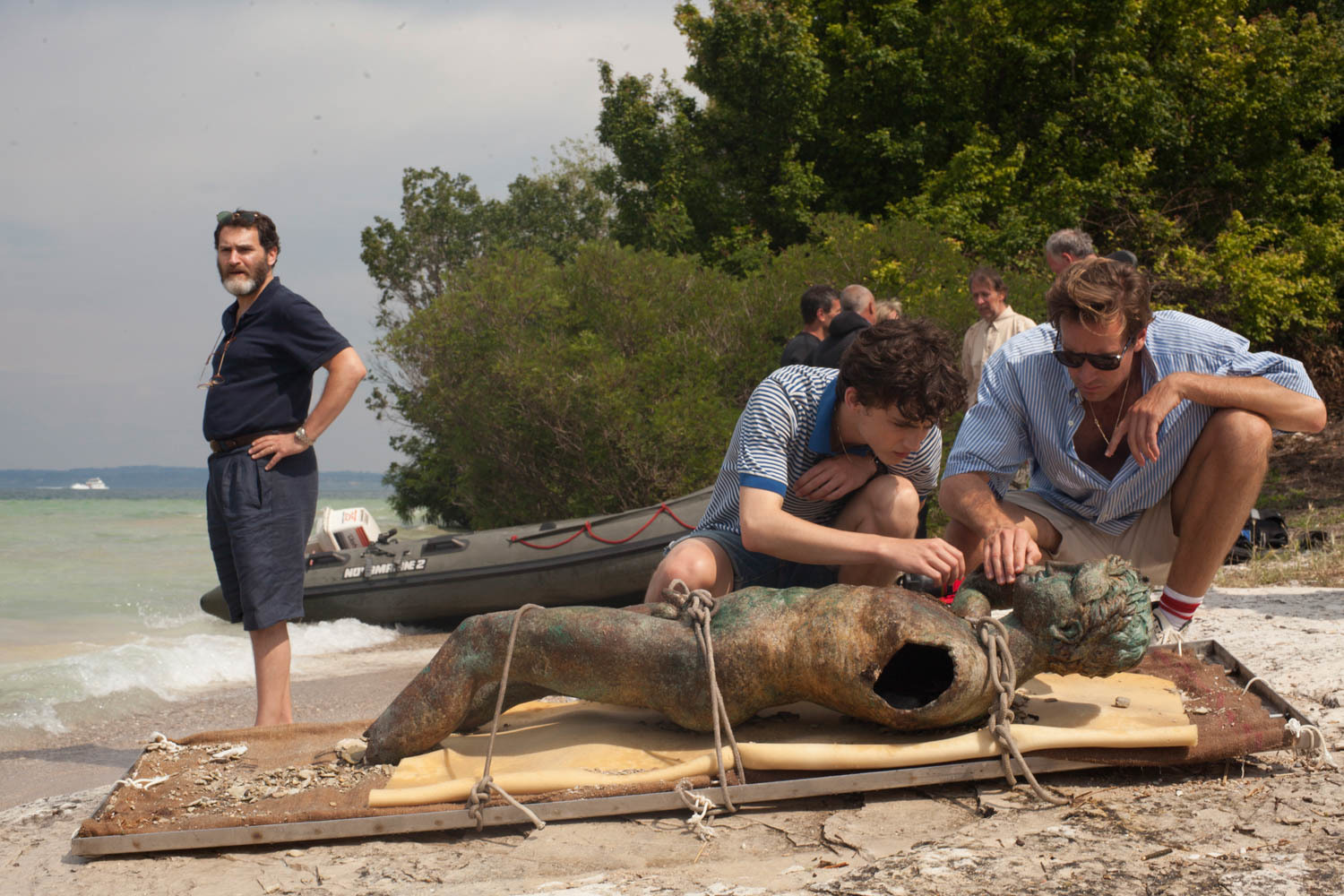 Elio is a 17-year old American who has accompanied his father (Michael Stuhlbarg) and mother (Amira Cesar) to their villa in Italy, where they spend every summer. (When asked, "What's there to do around here?", Elio responds, "Wait for summer to end.") His father, an archeology professor, recruits a new assistant annually. This year, it's a mid-20s American, Oliver, who's blessed with good looks and no shortage of confidence. Elio, whose interactions with his semi-girlfriend, Marzia (Esther Garrel), are on their way toward a mutual loss of virginity, is initially irritated by the arrival of the "usurper." (Oliver is taking over Elio's room.) Gradually, however, he becomes interested. It takes a long time, however, before both young men recognize that their feelings are reciprocated.
Call Me by Your Name is about the attraction between male characters, neither of whom self-identifies as gay. Falling in love with Oliver doesn't prevent Elio from furthering his sexual explorations with Marzia and Oliver has an "on-again, off-again" thing going on with a woman back home. For these two, however, the chemistry is overwhelming and, once they set aside their misgivings, the sparks ignite. Guadagnino films the sex scenes with restraint (he cuts away to a window at the moment of consummation), emphasizing sensuality over raw sexuality. (One can argue that he takes an opposite approach to the one employed by Abdellatif Kechiche in Blue is the Warmest Color. This is closer to Andre Techine territory.) To the extent that we're privy to it, the sex (both male-male and male-female) is fairly unremarkable, putting aside for the moment the indignities suffered by a peach.
The screenwriter is James Ivory, who established himself while working with Ismail Merchant during the 1990s (Howards End, The Remains of the Day). As is true of many of Ivory's films, the narrative crawls at a glacial pace, demanding a degree of patience. Call Me by Your Name is never in a hurry to get anywhere and, although that feeds into the lazy summertime atmosphere Guadagnino pursues, it also demands the viewer's surrender to the languorous pace. Call Me by Your Name is constructed as a series of moments and there are occasions when its tangents (the extraction of a statue from its watery grave, a discussion about the merits of Bunuel) become tiresome.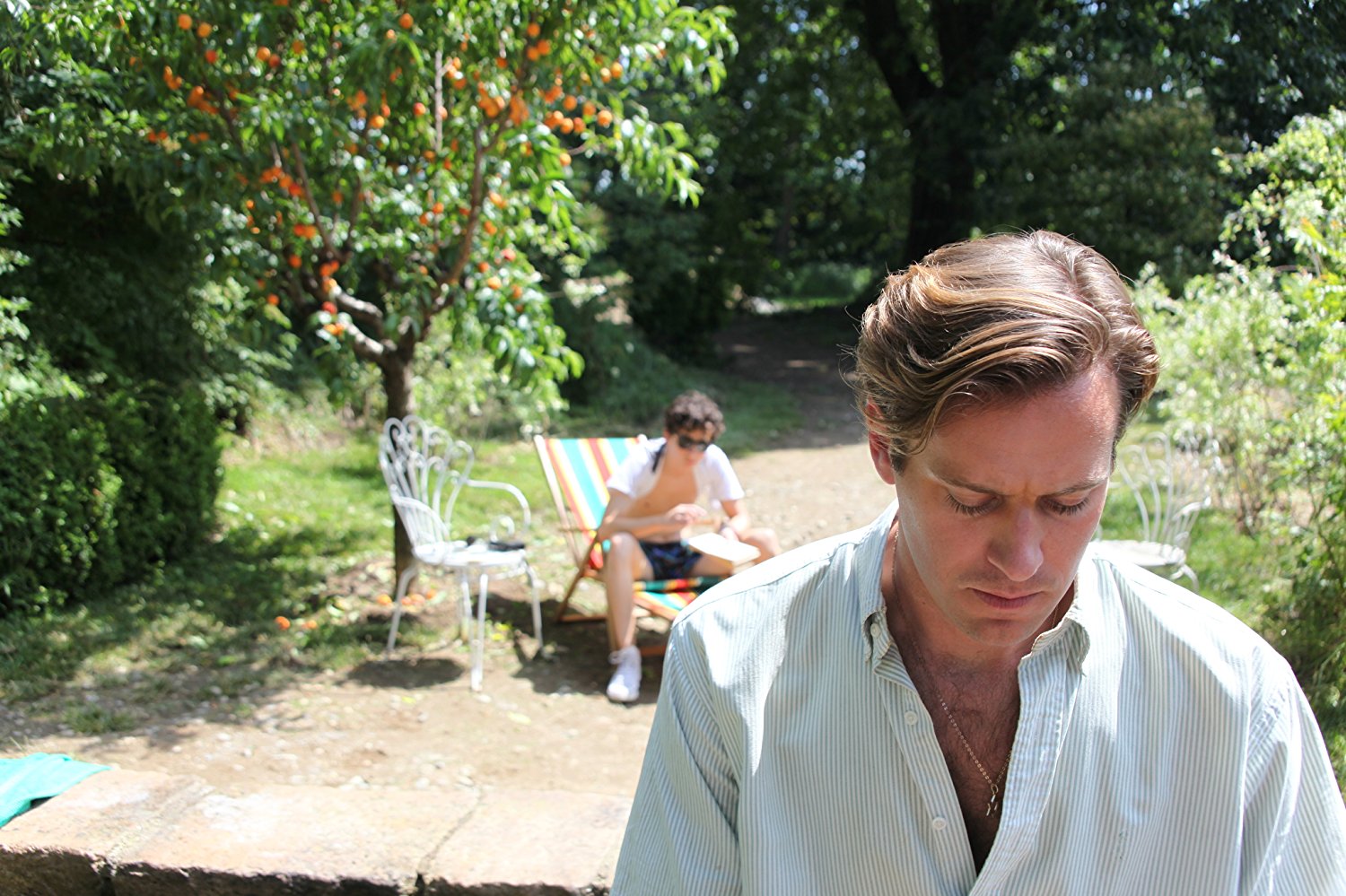 Although Armie Hammer is best-known for prominent roles in action/adventure fare (The Lone Ranger, The Man from U.N.C.L.E.), this is a bold career move (although arguably no bolder than the one made by Heath Ledger when he appeared in Brokeback Mountain). Freed from Hollywood expectations, he is allowed to show depth and range he hasn't previously exhibited. He displays strong chemistry with his younger co-star, Chalamet (who has a supporting role in another Oscar contender, Lady Bird), whose awkwardness contrasts with the aura of confidence exuded by Hammer. Michael Stuhlbarg, also currently in The Shape of Water, remains largely in the background until he gives an impassioned speech to his son about the importance of embracing pain. (One that weirdly echoes something William Shatner said in Star Trek V: "Pain and guilt... They're the things we carry with us, the things that make us who we are. If we lose them, we lose ourselves. I don't want my pain taken away! I need my pain!")
Guadagnino has spoken about taking a Before Sunrise approach to the story by revisiting the characters in several years' time for a sequel. Although Call Me by Your Name is nothing like Linklater's trilogy, which was grounded in conversation and dialogue, the fascination would be the same: revisiting characters in a different setting to see whether the intense passion of a brief interlude will resurface. There's less ambiguity about the future at the culmination of Call Me by Your Name than there was at the end of Before Sunrise, but the idea of revisiting Oliver and Elio six or seven years later is no less intriguing. It's easy to believe that this love story hasn't written its final chapter.
---
Call Me By Your Name (Italy/France/Brazil/US, 2017)
---

Three...better movies of this genre
worse movies of this genre
Three...better movies of Armie Hammer
worse movies of Armie Hammer
Three...better movies of Timothee Chalamet
worse movies of Timothee Chalamet
Three...better movies of Michael Stuhlbarg
worse movies of Michael Stuhlbarg
(There are no more worst movies of Michael Stuhlbarg)