Hugo (United States, 2011)
November 24, 2011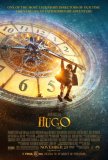 With Hugo, Martin Scorsese has accomplished what few in Hollywood are willing to try: make a movie for adults that arrives without sex, violence, or profanity and earns a PG-rating. It's a fairy tale for mature viewers, but the airy exterior hides emotional depth. Hugo is appropriate for young viewers, but it's questionable how much they will derive from the experience and, because the pace is more leisurely than frenetic, it's likely the average child's attention will wander.
The style is nothing like what we have come to expect from Scorsese. The whimsical approach with its Dickensian overtones and interludes of magical realism recall Terry Gilliam and Jean-Pierre Jeunet. For at least one film, Scorsese has left behind much of his baggage and accomplished what David Lynch did with The Straight Story and David Mamet did with The Winslow Boy - use his considerable behind-the-screen prowess and apply it to a different kind of story. The result is often magical.
Hugo is based on the 2007 illustrated historical fiction, The Invention of Hugo Cabret, by Brain Selznick. It transpires in and about Paris' Monparnasse train station during the early 1930s and focuses on a young orphan, Hugo Cabret (Asa Butterfield), who lives in the back rooms and hidden places "inside the walls." Having learned the craft of repairing timepieces from his father (Jude Law), a clockmaker who died in a recent fire, Hugo spends his days keeping the station's clocks wound and in good repair - when he's not pilfering the odd croissant or piece of fruit. Hugo also has a hobby - attempting to repair an automaton his father was working on at the time of his death. To accomplish this, Hugo must steal gears and other material from a shopkeeper who turns out to be the legendary director Georges Melies (Ben Kingsley) fallen on hard times. In Melies' goddaughter, Isabelle (Chloe Moretz), Hugo finds an ally. But he also has an enemy - the Station Inspector (Sacha Baron Cohen), who seeks to catch Hugo and send him to an orphanage.
Scorsese's vision of Paris is the stuff of dreams. With a few exceptions, we see it only through Hugo's eyes as he gazes out the windows of a clock tower. It is the City of Lights as romantics around the world imagined it to be between the wars. Hugo's more immediate environs - the station - seem like a modernized excerpt from Dickens, complete with references to orphans and orphanages. Hugo's presence inside clocks and on catwalks allows him to observe the lives of others in the station without being forced to dwell on his own lonely circumstances. In many ways, Isabelle is Hugo's salvation - his first true friend and a girl who yearns for the kind of adventure in real life that she reads about in books borrowed from the kindly M. Labisse (Christopher Lee).
Scorsese pays homage on several occasions to one of the earliest films, the Lumieres' Arrival of a Train at the Station. Indeed, with Melies - one of the pioneers of early film technique and special effects - as a main character, Hugo reveals much about film during the silent era. We learn that, between 1896 and 1914, Melies directed more than 530 films but, in order to save himself from bankruptcy, he was forced to sell the film stock so it could be melted down and turned into shoe heels. Only one print of one of his productions, 1902's A Trip to the Moon, exists and he views his life as a failure. By telling Melies' story, Scorsese has not only an opportunity to explore the innovations and inventiveness of filmmaking during its primitive, formative era, but also a opening to incorporate a message about the importance of preserving films for posterity. (A dogged effort unearthed copies of about 80 of Melies' titles, but more than 400 are forever lost.)
Performances by Sir Ben Kingsley and young Asa Butterfield (who previously had the title role in The Boy in the Striped Pajamas) give Hugo depth and feeling. Kingsley is in top form as an aging Melies who has been beaten down by life and cannot cope with how far he has fallen from his glory days. Flashbacks of Melies directing some of his best-known films provide context, although the de-aging process (whether makeup, CGI, or a combination) does Kingsley no favors - he looks like he's wearing a bad latex mask. Butterfield brings Hugo to life as an intelligent, inquisitive boy who is desperate for a sense of friendship and belonging. The supporting cast includes Sacha Baron Cohen in a mostly straight role as Hugo's nemesis; Emily Mortimer and Richard Griffiths as station merchants whose lives Hugo observes; Helen McCrory as Mama Jeanne, Melies' wife; Ray Winstone as Hugo's boozing uncle; Jude Law as Hugo's kindly father; and Christopher Lee, in a rare nonthreatening part, as a bookseller.
Scorsese becomes one of the first filmmakers to use 3-D effectively, primarily because he employs it as a tool to add to the visual experience rather than as a gimmick to define it. First and foremost, he makes sure that the light level is adequate and that, even in the darkest scenes, viewers aren't squinting to see things as if looking through a pair of grimy sunglasses. Secondly, he is apt to use 3-D to provide depth and body, although he's not averse to the occasional moment of spectacle. The opening scene, a glorious "helicopter" shot of Paris as the camera swoops toward it from above, may be the best example of 3-D thus far provided by any film. 3-D aside, the digital/computer-aided nature of the production allows Scorsese unparalleled freedom with the placement of his lens. Especially early in the film, the camera moves and tracks as if unfettered by the laws of physics.
Hugo is a smart movie, but it also has heart. Those with a passion for early cinema are likely to adore it, although a knowledge of and appreciation for Melies is not requisite to enjoy Scorsese's loving homage. The film deserves to be seen in 3-D as it was conceived, but the story is strong enough for it to survive intact in a 2-D conversion. As un-Scorsese-like as Hugo may be in many ways, it is nevertheless a worthwhile and important addition to the oeuvre of one of the best living filmmakers.
---
Hugo (United States, 2011)
Run Time: 2:07
U.S. Release Date: 2011-11-23
MPAA Rating:
"PG"
Genre:
DRAMA/ADVENTURE
Subtitles: none
Theatrical Aspect Ratio: 1.85:1
---
Three...better movies of this genre
worse movies of this genre
Three...better movies of Ben Kingsley
worse movies of Ben Kingsley
Three...better movies of Asa Butterfield
worse movies of Asa Butterfield
(There are no more worst movies of Asa Butterfield)
Three...better movies of Chloe Moretz
(There are no more better movies of Chloe Moretz)
worse movies of Chloe Moretz
(There are no more worst movies of Chloe Moretz)