Elegy (United States, 2008)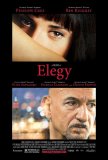 Elegy, based on Philip Roth's The Dying Animal, provides an incisive perspective of how a person's inability to believe in love destroys a single, fragile chance at happiness. The movie tells the poignant tale of how one man - intelligent, urbane, and witty - represents his own worst enemy when it comes to relationships. Borrowing text liberally from the source material, screenwriter Nicholas Meyer's script not only chronicles the relationship, but provides insight into the mind of the protagonist. We recognize that the love affair is both inevitable and doomed, but watch anyway to see if somehow these two will find away to overcome their self-imposed obstacles.
David Kepesh is a professor of cultural criticism with a history of having short affairs with female students. His latest would-be conquest is Consuela Castillo (Penélope Cruz), the daughter of Cuban immigrants. Consuela, by David's admission, is a beautiful woman who is aware of her beauty but "isn't sure yet how to use it." It doesn't take long before David and Conseula are lovers but, unlike his previous bed-mates, this turns into more than a one-night stand. He begins to feel something for her that he hasn't ever before experienced, and it makes him jealous and distrustful. His best friend, George (Dennis Hopper), urges him to end the relationship before Consuela humiliates him by leaving him for someone younger. And, while David doesn't heed George's advice, he engages in behavior that guarantees the affair will not last. His obsession about the age difference makes David certain Consuela will eventually discard him, and this becomes a self-fulfilling prophesy. His insecurities, not her proclivities, endanger any future they might have.
Elegy provides in David a fully-developed character who is rendered on-screen warts-and-all. He is a deeply flawed man who once abandoned his son (Peter Sarsgaard) and lies to a long-term lover (Patricia Clarkson) about his faithfulness. Ben Kingsley gives a masterful performance. I wrote after seeing his work in The Wackness that I almost forgave him for The Love Guru. Elegy completes his penance. Kingsley has been known to take roles exclusively for the paycheck, but this is a part in which he invests the full force of his considerable talent as an actor. David is real and oh-so-human in large part because of Kingsley's portrayal.
The film spends a lot of time dealing with the question of age. Roth notes in the book that, for the young, "time…is always made up of what is past." For those who are old, time is counted "by the closeness of death." While those lines are not used in the movie, they are key to understanding David and his relationship with Consuela. At one point, he states in a voiceover that although his body has grown old, he feels the same inside as he did as a young man. And, during a conversation with George, they discuss growing old and growing up. Aging is a significant element of this movie, especially as it relates to an intimacy between someone who is closer to death than birth and someone who, ideally, is the opposite. There is, however, a tragic irony to be uncovered in all of this.
Penélope Cruz makes an alluring and seductive Consuela. She bares her body for David and for director Isabel Coixet's camera without any hint of self-consciousness. There is a marked contrast between her first instance of nudity and her last, but I will not go into details here. This is Cruz's meatiest role in some time. Strong supporting performances are provided by the always reliable Patricia Clarkson and Dennis Hopper, who is suddenly ubiquitous (see also: Swing Vote and Hell Ride).
While Elegy contains its share of universal themes, this is first and foremost the story of a man and how he copes with encountering late in life something that is new and terrifying for him. His voiceover informs us from the beginning that things aren't going to end happily but, even forewarned, it is compelling to watch how the narrative unfolds. Coixet has given us a rich character study with as much depth as breadth. This is an offering for mature viewers thrown out amidst a sea of summer flotsam. The title, Elegy, is perfect for the material. There is much tragedy and truth in what the makers of this movie have brought to the screen.
---
Elegy (United States, 2008)
---
Three...better movies of this genre
worse movies of this genre
Three...better movies of Penélope Cruz
(There are no more better movies of Penélope Cruz)
worse movies of Penélope Cruz
(There are no more worst movies of Penélope Cruz)
Three...better movies of Ben Kingsley
worse movies of Ben Kingsley
Three...better movies of Patricia Clarkson
worse movies of Patricia Clarkson