Movies starring Dennis Hopper Apocalypse Now
Since its 1979 release, Apocalypse Now has been widely regarded as one of the most powerful and influential films about the Vietnam War. Were it not for the final thirty minutes, I might agree. There's little doubt that the bulk of the movie, whi... Basquiat
Basquiat, the fictionalized biography of graffiti artist-turned-international sensation, Jean Michael Basquiat, is the latest in a long line of "suffering artist" motion pictures, following closely on the heels of last year's controversial Tota... Blue Velvet
Blue Velvet is David Lynch in peak form, and represents (to date) his most accomplished motion picture. It is a work of fascinating scope and power that rivals any of the most subversive films to reach the screens during the '80s. For Lynch, the ... EDtv
JenniCam. August Live. BaddGrrl Live. GiggleCam. These are just a few examples of one of the Internet's hottest commodities: cam sites - web pages designed by exhibitionists with voyeurs in mind. Sure, some of them are just thinly-disguised s...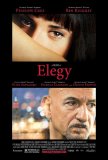 Elegy
Elegy, based on Philip Roth's The Dying Animal, provides an incisive perspective of how a person's inability to believe in love destroys a single, fragile chance at happiness. The movie tells the poignant tale of how one man - intelligent, urbane,... Giant
Giant makes for an interesting case study of a "classic" American motion picture. Although it was a huge financial success for Warner Brothers, the prints were allowed to fall into a shocking state of disrepair over the years. And Giant's reputat...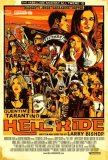 Hell Ride
Hell Ride is pretty much what a viewer would expect from a movie of that name. The film is chock full of motorcycles, cheesy dialogue, naked women, and over-the-top acting. It's part homage and part parody and works best when seen as an unabashe... Hoosiers
Many will claim that Hoosiers is the best sports movie ever made. For me, it's in third place, trailing only The Natural and Rocky. Some will argue that Hoosiers deserves "extra credit" because it is based on a true story - how the small-town Mil... Inside Deep Throat
Inside Deep Throat, a documentary from directors Fenton Bailey and Randy Barbato, is passably interesting, occasionally compelling, sporadically amusing, and badly lacking in focus. Although the film starts out with a clear thesis, by the time its... Land of the Dead
George A. Romero may have been the originator of the modern zombie movie, but, at least with Land of the Dead, he hasn't done much to refine it. The zombies are creepier looking than in the past, and the gore is more hard-core, but the story still...