Movies starring Dennis Hopper Red Rock West
There's a fine line between coincidence and contrivance, and what characterizes that demarcation has more to do with enjoyability than believability. Red Rock West, a film consigned to cable and video until a Bay Area theater decided to give it a s... Sleepwalking
There are movies that amble because the slow pace is necessary to provide insight into the characters and allow an overriding sense of atmosphere to envelop the viewer. Then there are movies whose slowness threatens to turn into stagnation and hel... Speed
Place your foot on the accelerator. Press down. Watch the needle on the speedometer creep above fifty. Now you're trapped. Whatever happens, you can't drop below that level - if you do, you're dead, and everyone on the bus with you. It might n...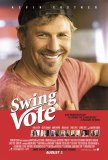 Swing Vote
In the past, it has been difficult to get the public interested in political films. This is especially true of younger viewers who are not old enough to participate in the voting process. 2008 may be different, however, with the "rock star" candi... True Romance
It's dangerous to live in Quentin Tarantino's world, as Clarence Worley (Christian Slater) discovers in the explosive True Romance. When Clarence, a loner with a love of low-budget Kung Fu movies, meets Alabama Whitman (Patricia Arquette), a callg... Waterworld
The makers of Waterworld, the current holder of the "most expensive film" title, have put a good portion of the money where the viewing public can see it -- on the screen. This production, with its massive explosions, amazing stunts, and breathtak...