Movies starring Asia Argento Land of the Dead
George A. Romero may have been the originator of the modern zombie movie, but, at least with Land of the Dead, he hasn't done much to refine it. The zombies are creepier looking than in the past, and the gore is more hard-core, but the story still...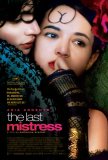 Last Mistress, The
Director Catherine Breillat is known for her racy and sometimes sexually explicit movies, many of which deal with themes of female empowerment. She has built a reputation in France as a woman for whom no subject is taboo. Her films have depicted ... Marie Antoinette
Three adjectives spring to mind when describing Marie Antoinette: odd, irritating, and tedious. (The last in that list could be replaced by "boring.") This is a movie that never gets to the point, perhaps because it doesn't recognize what the point... XXX
For Vin Diesel, starring in XXX is a wonderfully smart career move. Too bad neither "wonderful" nor "smart" are applicable adjectives to describe this film. XXX is proof positive that it's easier to fail than succeed with the James Bond formula, ...