Movies starring Jenna Elfman Can't Hardly Wait
With Can't Hardly Wait, I suppose first time directors Deborah Kaplan and Harry Elfont (whose previous credits include writing the script for A Very Brady Sequel) were trying to recapture the mood of a John Hughes '80s teen comedy. Unfortunately, ... EDtv
JenniCam. August Live. BaddGrrl Live. GiggleCam. These are just a few examples of one of the Internet's hottest commodities: cam sites - web pages designed by exhibitionists with voyeurs in mind. Sure, some of them are just thinly-disguised s...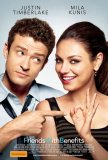 Friends with Benefits
Suddenly, it seems that every romantic comedy is using the "best friend" branch of the formula. There are no doubt sociological reasons for this perhaps having something to do with the increasing popularity of the "friend with benefits" (a.k.a. "fu...