Lady Bird (United States, 2017)
November 09, 2017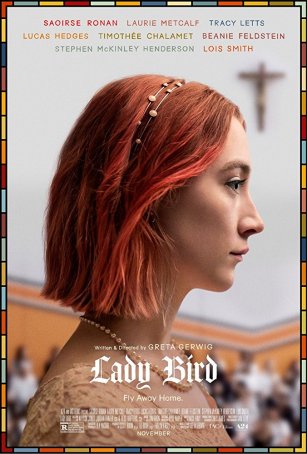 Lady Bird, the solo directorial debut of actress Greta Gerwig, is the intimate coming-of-age story of a young woman from Sacramento, California, who believes the world is happening out there while she is trapped in a dead-end existence. Highlighted by an awards-worthy performance by Saoirse Ronan and structured around a light, witty script by Gerwig, the movie delivers a well-targeted snapshot of a year-in-the-life of an ordinary high school senior.
Christine McPherson (Ronan), who prefers to go by the name of "Lady Bird" (and takes pains to correct anyone, including her mother, who uses her given moniker), believes she is living an uninteresting life in the most boring place on the planet. She dreams of going to a "liberal college out East" but, when she voices her hope of Yale, her guidance counsel laughs out loud. Lady Bird might have gumption but she's lacking in the grade department. She and her mother, Marion (Laurie Metcalf), both strong personalities, get along like oil and water. Her relationship with her father, Larry (Tracy Letts), is more affectionate but he has lost his job, putting the already cash-strapped family under a financial cloud. Meanwhile, Lady Bird decides to try out for a musical but most of the drama occurs off-stage when she starts seeing her first-ever boyfriend, the too-perfect Danny (Lucas Hedges). She makes a push into the "in" crowd by befriending Queen Bee Jenna (Odeya Rush), but that ultimately goes about as well as one might expect.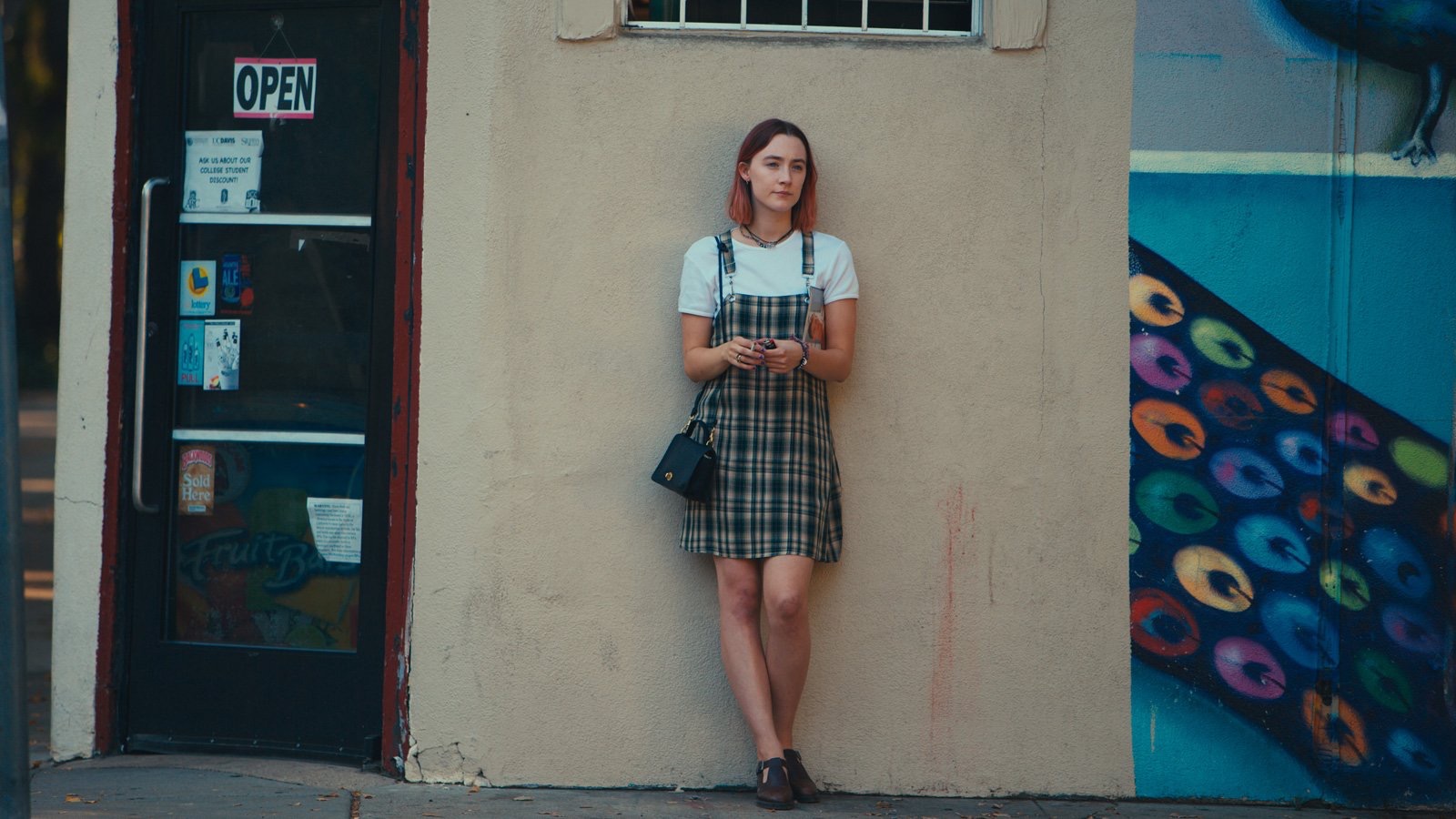 Gerwig's voice, known from past projects (mumblecore and other), is so strong that we can hear her speaking through Ronan. It's a little like when Woody Allen directs a younger "stand-in" for himself. Her off-screen relationship with Noah Baumbach has been creatively fruitful for both of them. Although she has frequently been called his muse, his influence can be seen in the structure and script even though his name doesn't appear in the credits. Like Baumbach's recent fare, Lady Bird is a character-based piece with a light tone that allows opportunities for drama and humor. Unlike Baumbach's films, however, the perspective is decidedly female.
The central relationship is that of Lady Bird and her mother. There's love there but it's buried under layers of friction and bitterness. In the opening scene, the two are in a car together and an argument becomes so heated that Lady Bird opens the door and jumps out rather than continue to engage Marion. She wears a cast through most of the movie. Key scenes late in the proceedings offer a window into the depth of feeling that exists – but those are established and executed in ways that are neither mawkish nor overly melodramatic.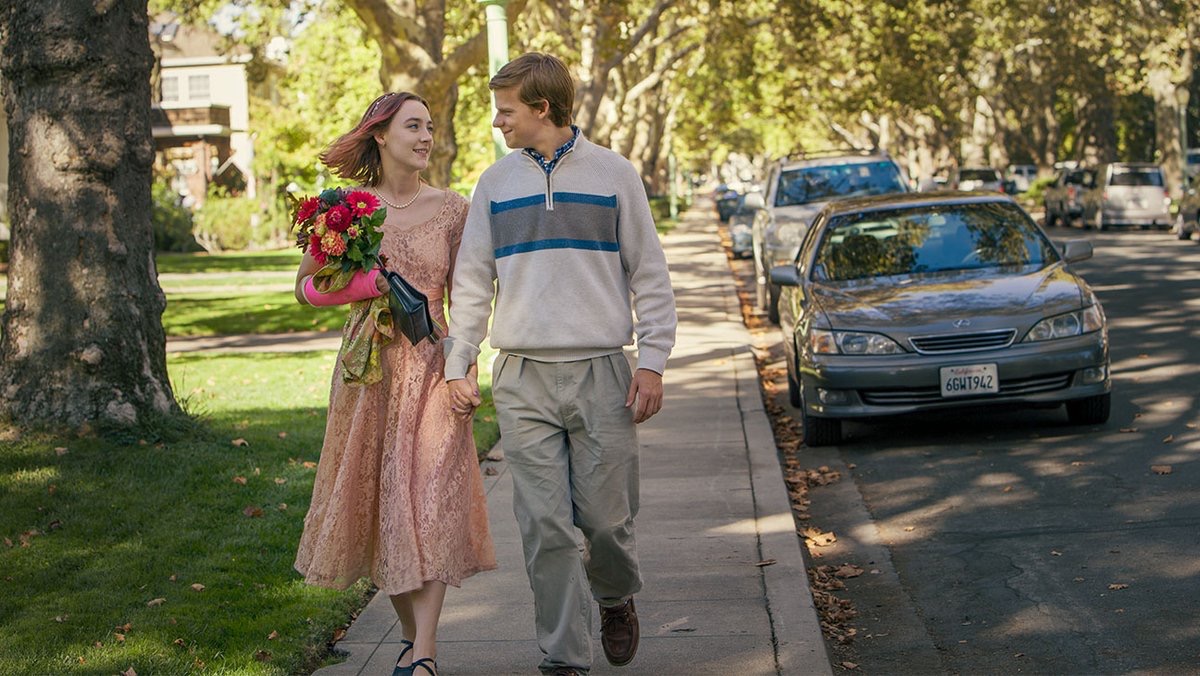 Many vignettes are too precise not to be genuine, opening up the question of the degree to which Lady Bird is autobiographical. There are some obvious parallels. Gerwig, like Lady Bird, was raised in Sacramento. (The movie was filmed on location and is as much a love letter to the city as any of Woody Allen's pictures are of New York.) Also like the character, she went to an all-girls Catholic school and moved to New York to attend a liberal arts college.
Lady Bird has its share of memorable moments. One in particular has Lady Bird and her best friend, Julie (Beanie Feldstein), snacking on (unconsecrated) communion wafers while discussing masturbation. Another occurs during a pro-life assembly when Lady Bird makes her feelings known about the speaker. One of the film's most relatable moments comes in the wake of Lady Bird's first sexual encounter.
There's nothing new or insightful about Lady Bird except perhaps the acknowledgment that the tribulations of adolescence are universal. The lead character is easy to relate to because of the precision of Ronan's unaffected performance and the care with which the screenplay was written and developed. Every incident in Lady Bird's life will be familiar to most readers in a general sense but the power of the movie comes through the details. Lady Bird is an original creation and comes to life in such a vivid fashion that we are enmeshed in her life. The production argues that a meaningful film doesn't have to be about some great or historical personality – an ordinary person can be just as compelling and, in this case, she is.
---
Lady Bird (United States, 2017)
---

Three...better movies of this genre
worse movies of this genre
Three...better movies of Saoirse Ronan
worse movies of Saoirse Ronan
Three...better movies of Laurie Metcalf
(There are no more better movies of Laurie Metcalf)
worse movies of Laurie Metcalf
(There are no more worst movies of Laurie Metcalf)
Three...better movies of Tracy Letts
(There are no more better movies of Tracy Letts)
worse movies of Tracy Letts
(There are no more worst movies of Tracy Letts)