Ford v. Ferrari (USA/France, 2019)
November 14, 2019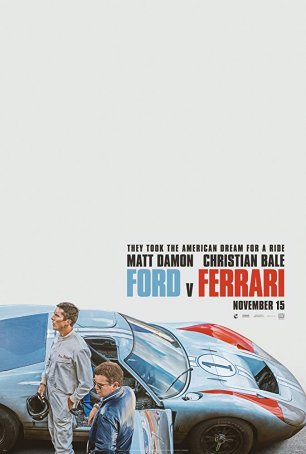 It's said that the sports movie format works best when telling a true story. Director James Mangold, after having spent some time in the X-Men universe (he helmed both The Wolverine and Logan), has returned to the real world to direct two A-list stars, Matt Damon and Christian Bale, in a story of a different kind of heroism. When it comes to sports movies, race car driving is an underrepresented field, primarily because the act of sitting in a car careening around a track for lap after lap after lap isn't inherently cinematic. Recognizing this, Mangold limits the racing sequences in Ford v. Ferrari to the minimum necessary to ensure audience involvement and divides the focus equally between the sports elements and those faced by the characters when developing and building the cars.
The movie is loosely based on the true story of how Henry Ford II (Tracy Letts) entered into a racing rivalry with Enzo Ferrari (Remo Girone) that culminated in showdowns at the 1965 and 1966 Le Mans. Various factual events have been changed to enhance the drama. Faced with the enormous undertaking of competing against perennial winner Ferrari, Ford tasks executives Lee Iacocca (Jon Bernthal) and Leo Beebe (Josh Lucas) to hire former Le Mans winner Carroll Shelby (Matt Damon) to design a race car. (Note: This is same Lee Iacocca who would revive Chrysler's fortunes during the 1980s and become a household name by doing so.) When he is given a blank check for the work, Shelby agrees. His team includes Roy Lunn (JJ Field), Phil Remington (Ray McKinnon), and the brilliant but "difficult" British driver, Ken Miles (Christian Bale). Miles' irascibility and perceived anti-team attitude earn him Beebe's ire and he persuades Ford to limit Miles' involvement to development and test driving. Of course, this being a sports movie, we know that's not how things are going to end…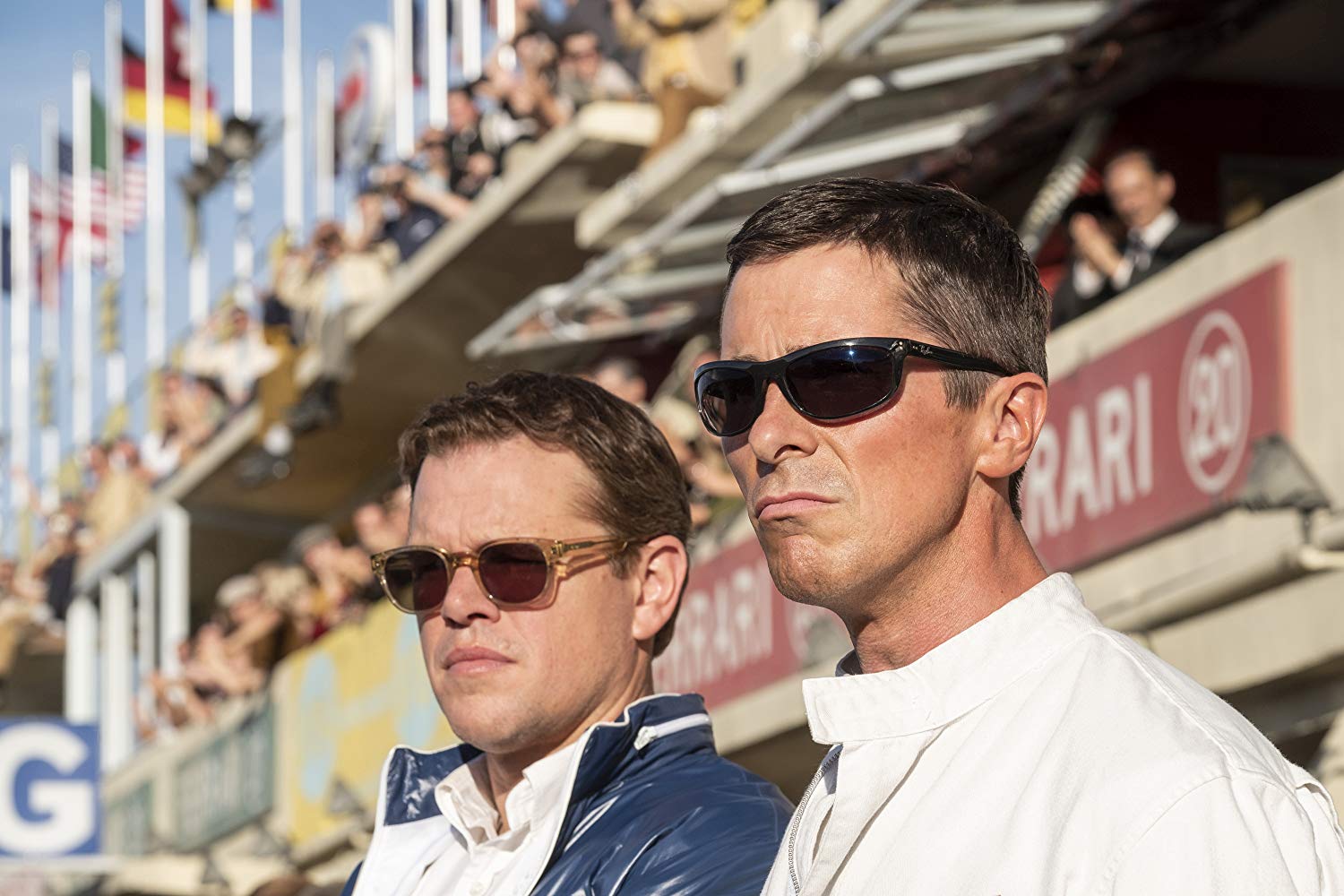 Mangold takes Ford v. Ferrari out of the simple realm of the genre without entirely losing the vibe. We still have the "buildup/training" scenes in which the participants prepare for the big contest. We still have a preliminary bout in which the central figure shows his worth. And we still have the showdown. But, although the climax satisfies, it does so in an unconventional fashion. And, in the end, one can make a compelling argument that the true villain isn't Ferrari or the driver of car #21 but Ford or his gutless corporate shill, Beebe.
The chemistry between Damon and Bale is solid – an effective meshing of oil and vinegar. Damon is suave, smart, and easy-going. Bale is angry and intense. The best scene featuring the two of them occurs when they engage in a fist-fight outside Miles' home while his unconcerned wife, Mollie (Caitriona Balfe), pulls up a chair to spectate. It's one of a number of comedy-tinged scenes. Although Mangold culls the expected tension from the racing scenes, he's not above going for the funny bone. Witness what happens when Shelby takes Mr. Ford for a little ride. Tracy Letts' reaction is priceless.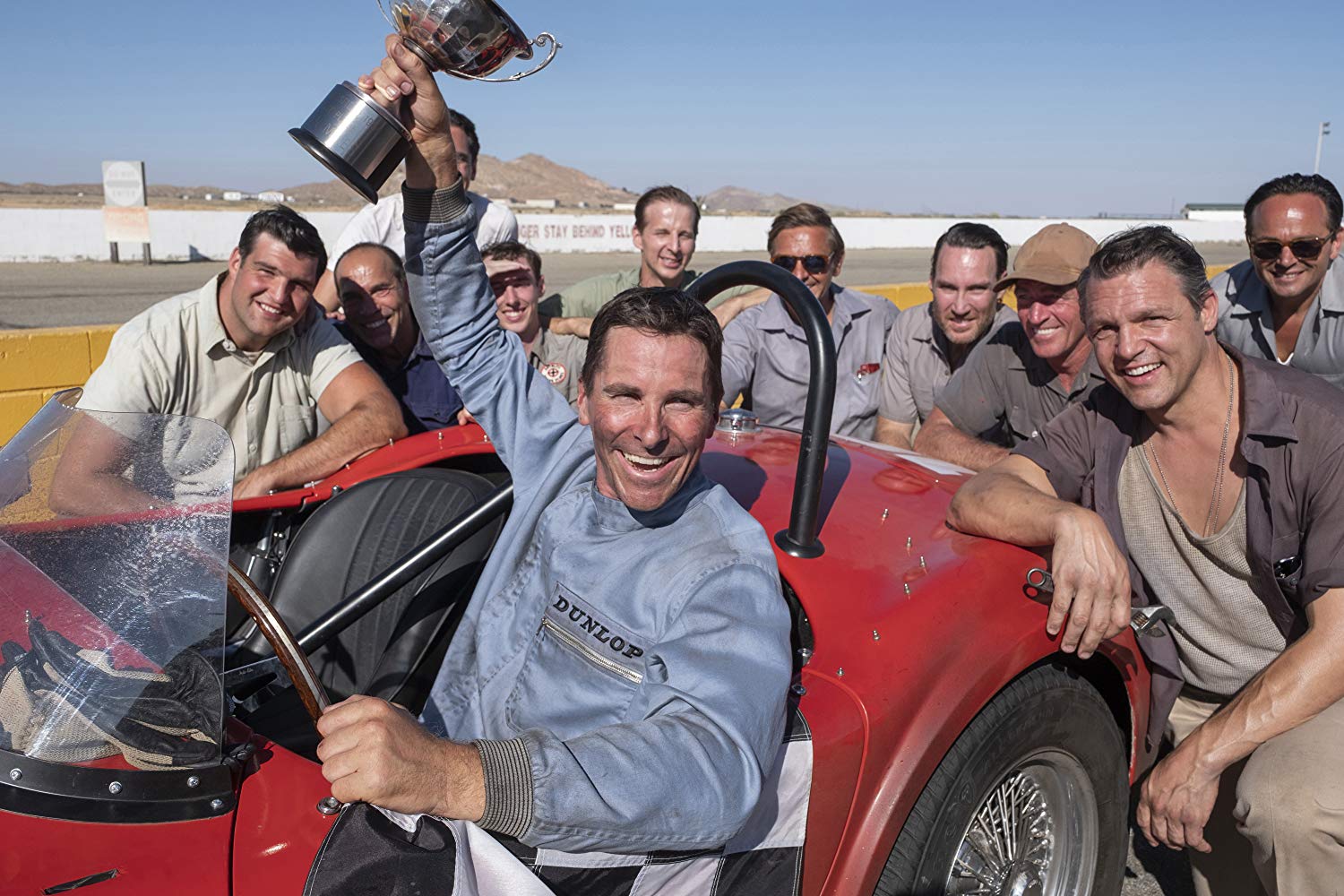 Ford v. Ferrari has a pacing issue. While gearheads, racing fans, and some engineers may disagree, the movie goes too deep into the nuts & bolts. There's too much about the minutia of designing and building the cars. Although the racing scenes are bracing, with just enough first-person, through-the-dashboard shots to give a "you are there" perspective, there are dead spots in between. This isn't the first time in 2019 that I've felt a movie could have been improved by some judicious cutting. We have reached a point in film evolution where the "Extended DVD Director's Cut" has become the theatrical release.
I admire the ways in which Mangold has broadened the sports movie without sacrificing the integrity of its essential elements. There's a lot more in this production than what one often uncovers in the genre with its elements of corporate greed and the buddy film sideshow. Don't be put off by the lackluster title. This is solid, middle-of-the-road entertainment. Slow patches aside, it finishes strong and, although it probably won't win the box office race, it may generate some Oscar interest (because Bale is almost always good enough to warrant that sort of attention).
---
Ford v. Ferrari (USA/France, 2019)
Director:
James Mangold
Cast:
Matt Damon
,
Tracy Letts
,
Ray McKinnon
,
Noah Jupe
,
JJ Field
,
Caitriona Balfe
,
Josh Lucas
,
Jon Bernthal
,
Christian Bale
,
Remo Girone
Home Release Date: 2020-02-11
Screenplay:
Jez Butterworth & John-Henry Butterworth and Jason Keller
Cinematography:
Phedon Papamichael
Music:
Marco Beltrami, Buck Sanders
U.S. Distributor: 20th Century Fox
Run Time: 2:32
U.S. Release Date: 2019-11-15
MPAA Rating:
"PG-13" (Profanity)
Genre:
Drama
Subtitles: none
Theatrical Aspect Ratio: 2.35:1
---

Three...better movies of this genre
worse movies of this genre
Three...better movies of Matt Damon
worse movies of Matt Damon
Three...better movies of Tracy Letts
(There are no more better movies of Tracy Letts)
worse movies of Tracy Letts
(There are no more worst movies of Tracy Letts)
Three...better movies of Ray McKinnon
(There are no more better movies of Ray McKinnon)
worse movies of Ray McKinnon
(There are no more worst movies of Ray McKinnon)