Brooklyn (Ireland/U.K./Canada, 2015)
November 20, 2015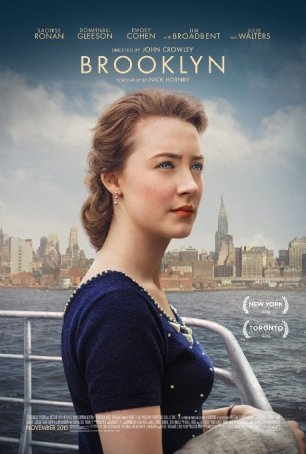 Brooklyn is a beautifully crafted, deeply moving motion picture - a more personal story than is typically told in movies that transplant Europeans into the fertile soil of early 20th century America. Brooklyn explores the pain of leaving loved ones and familiar things behind and the joy and empowerment that can come from building a new life. Although not without moments of sadness and tragedy, Brooklyn is sublimely uplifting and life affirming.
Saoirse Ronan's performance as the lead character, Eilis Lacey, has rightly generated Oscar buzz. A nuanced portrayal like this - low-key, unforced, and emotionally exact - is guaranteed to get an actor noticed. Ronan's representation of Eilis' homesickness is heartbreaking. There's a believable wonder and confusion in the uncertainty with which she approaches first love. We see her develop from a homeless girl navigating the confusing channels of a new country to a confident woman with a bright life ahead. Ronan is ably supported by several recognizable names in small roles: Julie Walters as the openly comedic landlady Mrs. Kehoe, Jim Broadbent as the helpful priest Father Flood, and Domhall Gleeson as Jim Farrell, a potential love interest.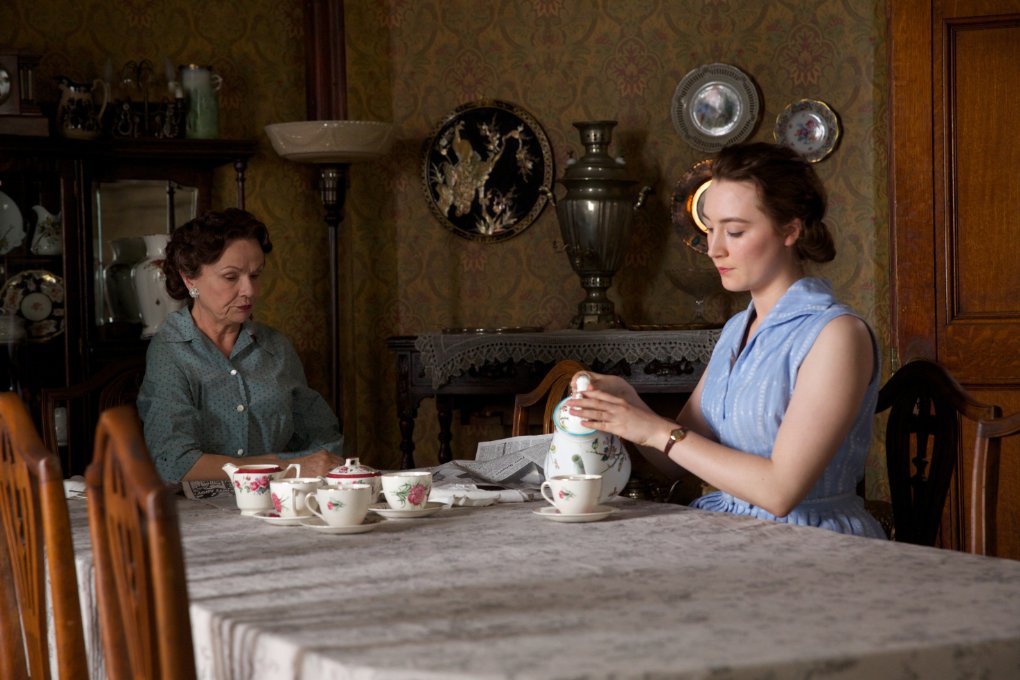 The film opens in 1952 Ireland with Eilis getting ready to embark on a boat trip to New York. At the behest of her older sister, Rose (Fiona Glascott), an Irish- American priest, Father Flood, has secured a job and lodging for Eilis. Scared and miserable, she leaves behind Rose and her mother, Mary (Jane Brennan), for Brooklyn. The Atlantic crossing is difficult, but the seasickness is nothing compared to the separation anxiety she experiences after her arrival. Eventually, however, the homesickness fades and Eilis is able to start her new life. Key to this is a romance with a young Italian man, Tony (Emory Cohen), who brings a smile to Eilis' face when they're together and never becomes pushy or demanding. Just when she has become comfortable calling Brooklyn "home," however, events conspire to recall her to the town of her birth.
Brooklyn touches on numerous universal themes. Many coming-of-age stories, whether they involve immigration or not, focus on the transition from childhood dependency to adult independence. They're about the development of a unique identity and the conflicting emotions that come with it - the sadness associated with the weakening of family ties and the excitement that results from forging ahead into the future. Because immigration involves a physical gulf in addition to an emotional one, these things are emphasized in Brooklyn.
The film is divided into three distinct acts and director John Crowley alters his visual approach subtly with each. The first, which occurs in Ireland prior to Eilis' emigration, has a darker, more sober look and tone. The second, in Brooklyn, has richer colors and contains elements of nostalgia (although it doesn't romanticize the New York setting the way a director like Woody Allen is known to do). The third, once again in Ireland, revisits many of the same places as the first but with brighter lighting and no evidence of the color desaturation from earlier in the movie.
Brooklyn hits just about all the right notes, although this shouldn't be surprising considering some of screenwriter Nick Hornby's previous projects: High Fidelity (he wrote the novel), About a Boy (also the novel), and An Education (the screenplay). Hornby's adaptation of Colm Toibin's book shows a deft touch when it comes to maintaining the essence of the source. Due in no small part to Ronan's performance, the movie allows viewers to see the world through the protagonist's eyes. Eilis is no one-dimensional avatar traversing a path through a clichéd narrative. Instead, this is an emotionally precise journey with a character we come to understand and care about. That's an increasingly rare commodity in the motion picture industry and deserves to be singled out when, as in Brooklyn, it can be found.
---
Brooklyn (Ireland/U.K./Canada, 2015)
---

Three...better movies of this genre
worse movies of this genre
Three...better movies of Saoirse Ronan
worse movies of Saoirse Ronan
Three...better movies of Emory Cohen
(There are no more better movies of Emory Cohen)
worse movies of Emory Cohen
(There are no more worst movies of Emory Cohen)
Three...better movies of Domhall Gleeson
(There are no more better movies of Domhall Gleeson)
worse movies of Domhall Gleeson
(There are no more worst movies of Domhall Gleeson)