Anna Karenina (United Kingdom, 2012)
November 15, 2012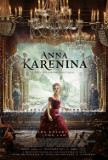 Like Frankenstein and Hamlet, Anna Karenina is a literary touchstone that filmmakers return to on a regular basis. The first filmed version of the book was a 1910 German silent which has long since been lost to the ages. It was released shortly before Tolstoy's death; no indications exist whether he saw it and, if he did, what his opinion was. Other, more prestigious productions followed. In the century-plus since Anna Karenina initially reached the screen, no period of more than 13 years has passed without a new interpretation either for the cinema or on television. Joe Wright's 2012 adaptation is the first new Anna Karenina since a 2000 British mini-series. The previous theatrical treatment was Bernard Rose's 1997 spectacle, which starred Sophie Marceau and Sean Bean.
Wright, working from a screenplay by celebrated playwright Tom Stoppard, elects to do some unusual things with the well-known story. The central tragedy remains intact with the vivacious Anna (Kiera Knightley), the wife of the respected Karenin (Jude Law), embarking upon a torrid affair with a Russian cavalry officer, Count Vronsky (Aaron Taylor-Johnson). But Wright puts a different slant on the love affair by making Anna and Vronsky self-absorbed and not especially likeable and by transforming Karenin, who is usually portrayed as petty and spiteful, into a sympathetic figure. It's a bold approach that freshens up the material, at least until the end, when Anna's descent into depression and drug addiction kills the pace.
Over the years, filmmakers have struggled with the seemingly insurmountable task of how to condense Tolstoy's 1000-page manuscript into a two-hour motion picture. A frequent casualty of this process is that the book's secondary relationship between Levin (Domhall Gleeson) and Kitty (Alicia Vikander) is elided. To their credit, Stoppard and Wright retain at least the skeleton of this subplot intact; it's necessary to balance the overt tragedy evident in the Anna/Vronsky/Karenin triangle. Levin and Kitty's story is accorded sufficient screen time for it to feel like more than a throw-away. In fact, the central scene of their relationship, in which they playfully interact with each other using letters, is remarkably faithful to the novel. An argument could be made that the movie would have been more involving had it shifted the focus toward these characters but perhaps that's because the central narrative is overly familiar.
Wright and Stoppard have fun with the film's staging. Rather than offering a straightforward telling, they frame the film as a theatrical production. The camera often pans back to show the sides of the stage and seats in the theater. Scenes take place behind the curtain and in the rafters. Scenery is occasionally shifted manually. The score is sometimes played by musicians on stage. Magical realism abounds, shifting the lines between the theatrical and the cinematic. It's a playful approach that works surprisingly well and recalls Moulin Rouge in a strange way (without singing). It gives Anna Karenina added energy without becoming excessively intrusive. Wright downplays the stylistic flourishes when the story becomes more demanding in terms of emotional involvement. The tone is odd; the movie starts out light and almost comedic, with Matthew Macfadyen's Oblonsky getting a shave in a scene that feels almost Monty Python-esque. By the end of the film, however, we're in the dour territory that accompanies the average Russian novel. The concluding 20 minutes of Anna Karenina can be a chore to endure, in part because we're conflicted about Anna and don't care much about Vronsky.
Making Karenin a sympathetic figure is a double-edged sword. In order for us to feel for the cuckolded husband, we can't be rooting for the lovers. So, without being unfaithful to the novel, the filmmakers tweak our perceptions. Kiera Knightley, making her third film with the director (Pride and Prejudice, Atonement) plays Anna as shrill and unappealing. She's a selfish neurotic who suffers from some form of undiagnosed mental illness that is exacerbated by the social ostracism that accompanies her affair. If Knightley's intention is to alienate viewers, she does an exceptional job. I actively disliked Anna, although I couldn't help but feel a surge of pity as the movie moves inexorably down the train tracks to its climactic moment.
Aaron Taylor-Johnson (the lead in Kick-Ass) is miscast as Vronsky. His is a one-dimensional interpretation that keeps the character in the background even when he's supposed to be front-and-center. There's no hint of chemistry between Taylor-Johnson and Knightley; even the sex scenes are yawn-provoking. Jude Law's Karenin, however, is well realized. Understated and presented not as a villain but as a wronged man trying to do the right thing, Karenin exists at the moral and emotional center of Anna Karenina. The secondary players - Macfadyen as Oblonsky, Kelly Macdonald as Dolly, Domhall Gleeson and Levin, and Alicia Vikander as Kitty - are solid.
The best thing that can be said about Wright's immersion into the world of Tolstoy is that it's interesting - a quality not always true of Anna Karenina adaptations. The movie also doesn't feel rushed, successfully capturing more of the novel's secondary stories into its fabric. Still, this represents more of a curiosity than a radical revisitation and is worth seeing for those who have grown tired of the wearily similar interpretations of Anna Karenina that arrive with regularity. For those familiar with the novel (or at least the story), there's plenty here to discuss and ponder. For anyone else, it's questionable whether Anna Karenina will seem like more than a period piece soap opera. As a one-time devotee of Russian literature, I was suitably diverted and occasionally impressed. Your mileage may vary.
---
Anna Karenina (United Kingdom, 2012)
Run Time: 2:10
U.S. Release Date: 2012-11-16
MPAA Rating:
"R" (Sexual Content)
Genre:
DRAMA
Subtitles: none
Theatrical Aspect Ratio: 2.35:1
---
Three...better movies of this genre
worse movies of this genre
Three...better movies of Kiera Knightley
worse movies of Kiera Knightley
(There are no more worst movies of Kiera Knightley)
Three...better movies of Jude Law
worse movies of Jude Law
Three...better movies of Aaron Taylor-Johnson
worse movies of Aaron Taylor-Johnson
(There are no more worst movies of Aaron Taylor-Johnson)