Coming 2 America (United States, 2021)
March 05, 2021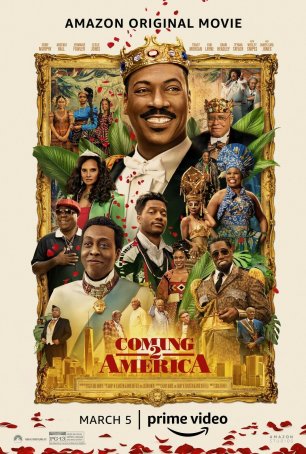 The fairest way I can describe Coming 2 America is to say that it's not as bad as I feared it might be. Damning with faint praise, indeed. My expectations were based on two factors: (1) the original movie, Coming to America, was an amusing-but-forgettable trifle from a time when comedies were a much different breed, and (2) sequels with long gaps between installments (and 33 years qualifies as very long) rarely work. It's to the credit of Eddie Murphy and the rest of the creative team that Coming 2 America isn't a complete train wreck but that doesn't prevent the production from feeling out-of-date, sometimes awkward, and completely unnecessary.
If I was to re-watch Coming to America today, I wonder how many times I would cringe. The whole milieu of what was acceptable in a mainstream comedy was different in 1988. In making the sequel, Murphy apparently wanted to address some of those changes. One of its themes is an attack on the patriarchal system of government in the fictional country of Zamunda. It does this by instructing viewers that women can sometimes be better rulers than men. This sort of retro enlightenment probably wouldn't have been deemed insightful in the '80s let alone the 2020s. (Maybe back in the '50s…)
One of the most enjoyable aspects of Coming to America was the fish-out-of-water story, which recalled both Murphy's earlier success with Trading Places (also made with Coming to America's director, John Landis) and Paul Hogan's Crocodile Dundee. A little of that element is recycled in Coming 2 America, which gets a lot of mileage out of essentially remaking parts of Coming to America with younger actors in the key parts. The sequel has the same overall "Love Conquers All" idea although the presence of so many subplots (giving the older actors things to do) clutters up the screenplay and diminishes the romance because the couple has two scenes together before they fall hopelessly, madly in love.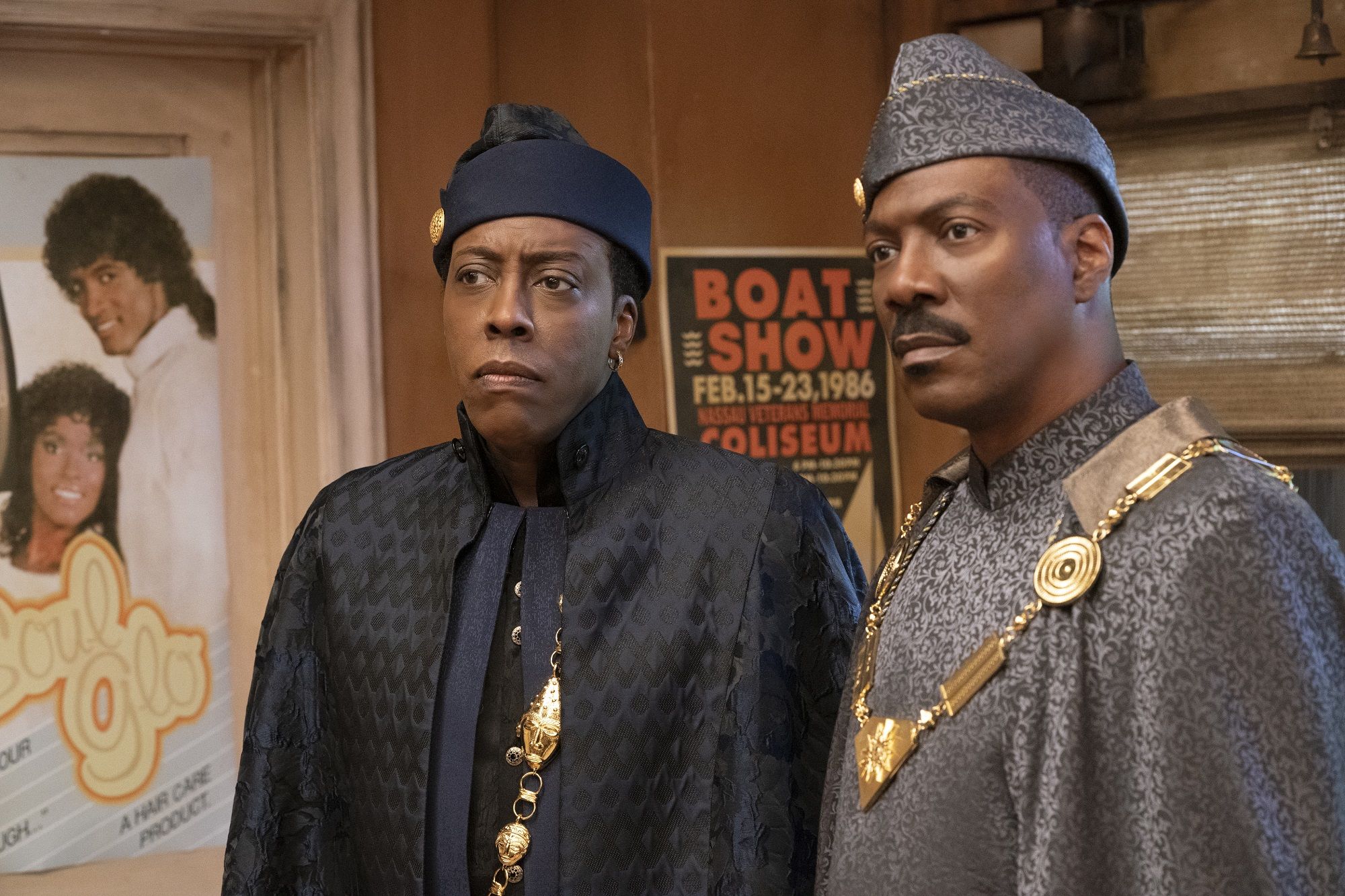 As the movie opens, Prince Akeem (Murphy) is about to become King Akeem. His father, King Jaffe Joffer (James Earl Jones, looking damn good at age 90), is about to become the late ruler of Zamunda. Following a lavish funeral, Akeem faces his first crisis. General Izzi (Wesley Snipes), the leader of Nextdoria, is threatening an invasion if the two countries can't be united by marriage. He proposes his daughter, Bopoto (Teyana Taylor), for a match but Akeem and his wife, Lisa (Shari Headley), have only girls: Princess Meeka (KiKi Layne), Princess Omma (Bella Murphy), and Princess Tinashe (Akiley Love). No problem, though – it is revealed that Akeem has a bastard son whom he sired while on his first visit to Queens. Determined to discover and bring home the lost Royal, named Lavelle Junson (Jermaine Fowler), Akeem and his faithful aide Semmi (Arsenio Hall), return to New York. Soon, Lavelle is introduced to Zamunda and Zamunda is introduced to Lavelle…and his mother, Mary (Leslie Jones), and uncle, Reem (Tracy Morgan). However, although Lavelle is attracted to power and spellbound by Bopoto's obvious assets, he falls in love with Mirembe (Nomzamo Mbatha), the royal groomer.
The key questions anyone can reasonably ask regarding an Eddie Murphy comedy is whether it effectively conveys the star's energy and, more importantly, whether it's funny. The answer to the latter question is "yes," although the laughter is sporadic and there are numerous bits that don't work. The answer to the former, however, is "no." Murphy is often a bystander in this movie, only once bringing to the fore his outrageous personality – toward the end when he dons a wig and makeup to play Randy Watson, a singer with the band Sexual Chocolate who belts out "We Are Family." The scene-stealer is Wesley Snipes, who continues a series of off-the-wall post-incarceration performances. Leslie Jones, Tracy Morgan, and Morgan Freeman (in a hilariously deadpan cameo) have their moments. (Freeman is even better in one of the deleted scenes shown during the end credits.)
Fans of Coming to America (if such a group exists) will feel at home. Director Craig Brewer (who previously worked with Murphy on Dolemite Is My Name) and the trio of screenwriters "honor" the original while adding some "meta" elements that lampoon the idea of making a sequel for a long-dormant movie and how the story is a re-hash of the earlier film. Despite having nothing to do, Shari Headley has been brought back for continuity purposes and some of the most memorable scenes have been referenced – this time, though, the bathing sequence features a gender-switch. Murphy and Arsenio Hall also revive the concept of playing multiple characters.
Outside of Eddie Murphy completists, it would be hard to identify a target demographic for this movie, whose reason for production remains obscure. The film isn't funny enough to warrant a recommendation and, although it doesn't desecrate the less-than-sacred image of the earlier film, it proves itself to be superfluous. However, Coming 2 America will disappoint only those who believed Murphy could do something amazing or hilarious with this dubious property. Of all the sequels he might have attempted, this would seem to have minimal potential, as the actual movie demonstrates.
---
Coming 2 America (United States, 2021)
Director:
Craig Brewer
Cast:
Eddie Murphy
,
Arsenio Hall
,
Jermaine Fowler
,
Leslie Jones
,
Tracy Morgan
,
Kiki Layne
,
Shari Headley
,
Teyana Taylor
,
Wesley Snipes
,
James Earl Jones
,
Nomzamo Mbatha
Screenplay:
Kenya Barris, Barry W. Blaustein, David Sheffield
Cinematography:
Joe Williams
Music:
Jermaine Stegall
U.S. Distributor: Amazon Studios/Prime Video
---
Three...better movies of this genre
worse movies of this genre
Three...better movies of Eddie Murphy
worse movies of Eddie Murphy
Three...better movies of Arsenio Hall
(There are no more better movies of Arsenio Hall)
worse movies of Arsenio Hall
(There are no more worst movies of Arsenio Hall)
Three...better movies of Jermaine Fowler
(There are no more better movies of Jermaine Fowler)
worse movies of Jermaine Fowler
(There are no more worst movies of Jermaine Fowler)