Dolemite Is My Name (United States, 2019)
October 26, 2019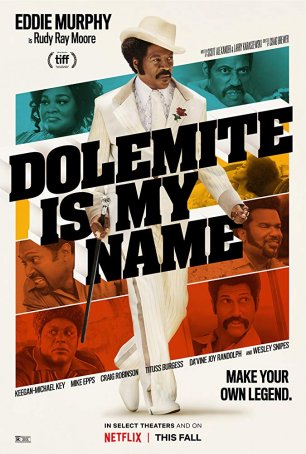 Dolemite Is My Name isn't only a biopic of the comedian/actor/musician Rudy Ray Moore, it's Eddie Murphy's Valentine to one of the most outrageous figures in '70s Blaxploitation films. Murphy has long desired to make a movie about Moore but the funding/interest was never in place. Then along came Netflix and, eager to partner with the actor and willing to do so with no creative input, they provided Murphy with an opportunity. Working from a meticulously researched screenplay credited to Scott Alexander and Larry Karaszewski (whose past projects have included Ed Wood and The People vs. Larry Flynt), director Craig Brewer (Hustle & Flow) was able not only to recreate L.A. in the '70s but provide a backstage look at the improbable circumstances surrounding the making of the 1975 feature Dolemite.

For Murphy, playing Moore is an opportunity to turn back the clock. Over the last two-plus decades, the former SNL cast member has carefully cultivated a kinder, gentler image by appearing in a copious number of family-oriented films. Now, as he approaches age 60, Murphy seems inclined to return to R-rated fare. Dolemite Is My Name gives him an opportunity to resurrect the kind of outrageous, profane characters that he at one time routinely played.

Only Blaxploitation fans are likely to remember Moore, who made six movies between 1975 and 1982 before disappearing (he re-emerged in the 1990s and continued to be active until his 2008 death). Dolemite Is My Name tells the story of how Moore re-invented himself as the title character and, following a series of successful comedy albums, self-financed a movie that eventually became a cult classic. Although not a traditional rags-to-riches story, there's an element of that in Dolemite Is My Name, which is designed as a feel-good retelling of an important slice of Moore's life story.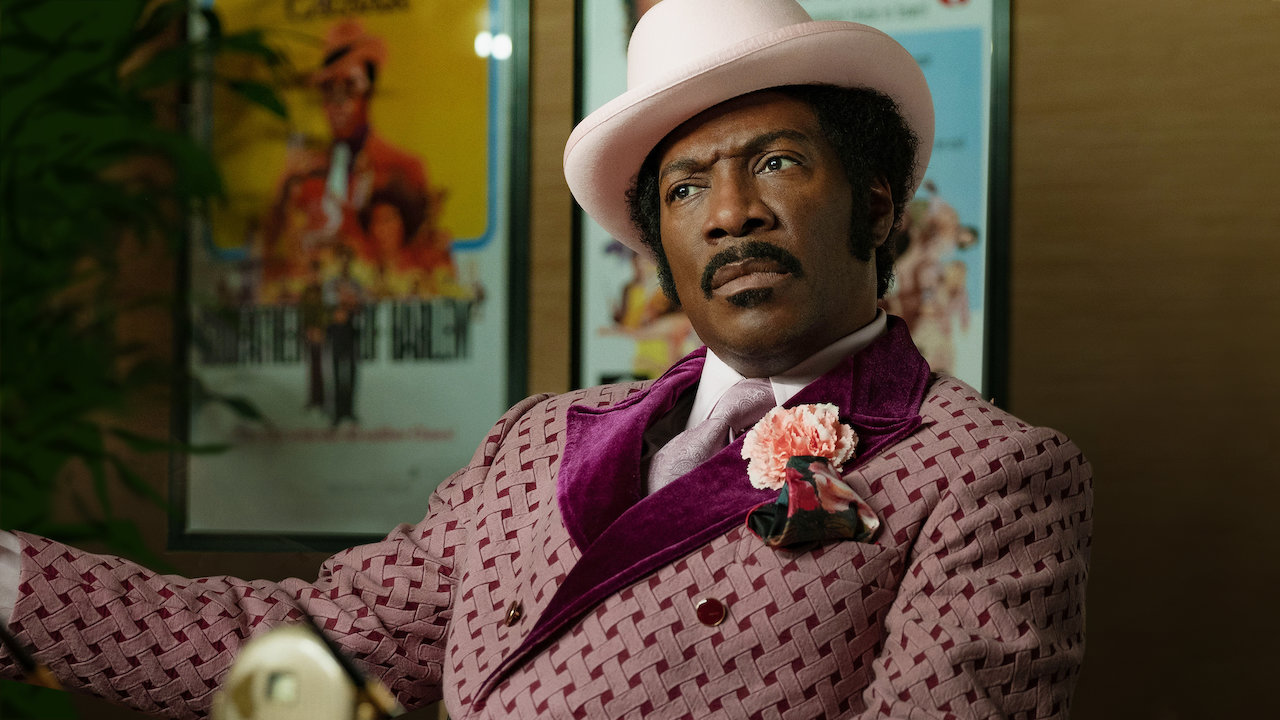 Comedy is subjective. No one will disagree with that statement. Some people love Monty Python. Others hate (or don't "get") the British troupe's sense of humor. The same can be said of Moore. The film explicitly acknowledges how different races/classes/ethnicities may not react the same way to brands of comedy. In one scene, Moore and his friends go to a theater to see Billy Wilder's 1974 film The Front Page (starring Walter Matthau and Jack Lemmon). As they sit in the theater stone-faced, the mostly-white audience around them chortles. They don't get it. ("This movie had no titties, no funny, and no kung-fu – the stuff people like us wanna see.") But, while the comedic aspects of the movie may not reach them, they learn a valuable lesson about the power of the motion picture medium. In a roundabout way, Wilder inspired the creation of Dolemite. (I'm not sure how he would have felt about that association.)

I may not have found Dolemite Is My Name to be exceptionally funny (although it has its moments), but I was entertained. The movie's perspective of how Dolemite came to be is reminiscent of the 2017 film The Disaster Artist, an account of the unlikely making of Tommy Wiseau's The Room which, like Dolemite, has become a cult classic. (Although Moore is considerably more self-aware than Wiseau who, to this day, believes himself to be a genius. Moore never considered himself more than a crowd-pleasing showman.) As with The Disaster Artist, movie scenes are lovingly recreated. Snippets from the real Dolemite and the sequel, The Human Tornado, are shown at the end of the film.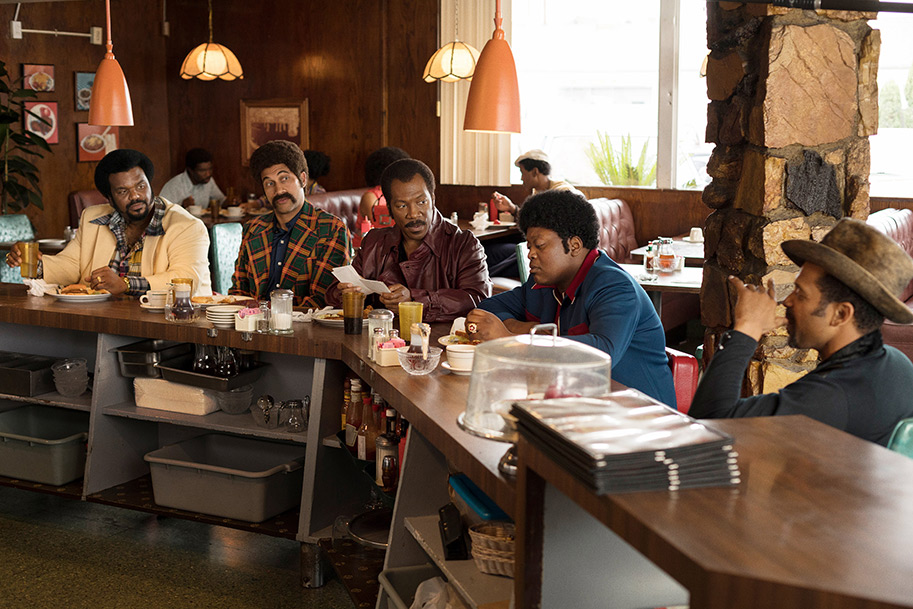 Murphy has surrounded himself with an eclectic supporting cast. Keegan-Michael Key (who appeared in The Disaster Artist) is the naïve writer of Dolemite, who mistakenly believes he's scripting a hard-hitting drama about social issues. Kodi Smit-McPhee, who has been playing Nightcrawler in the recent X-Men movies, is the young UCLA film student who functions as the D.P. A deliciously over-the-top Wesley Snipes is D'Urville Martin, the co-star and director. Mike Epps and Da'Vine Joy Randolph are also featured, as Jimmy Lynch and Lady Reed (respectively). Chris Rock and Snoop Dogg (who was instrumental in re-introducing Moore to the world during the 1990s) have supersized cameos.

Dolemite goes down smoothly and its availability on Netflix makes it within easy reach of a great many potential viewers. It's a hard-R and therefore inappropriate for some who may know Murphy primarily from his voicework as Shrek's Donkey or as The Nutty Professor or Dr. Dolittle. But those who remember Beverly Hills Cop or Trading Places may smile to see that version of the actor back in play. If you're a fan of Dolemite (or Blaxploitation in general), this is an opportunity to wallow in nostalgia. If not, it's a solid re-examination of a bygone era and genre. Moore was always bigger-than-life and that's how Murphy plays him. It's a strong performance of a character worthy of biopic treatment. Dolemite lives!
---
Dolemite Is My Name (United States, 2019)
---
Three...better movies of this genre
worse movies of this genre
Three...better movies of Eddie Murphy
worse movies of Eddie Murphy
Three...better movies of Keegan-Michael Key
(There are no more better movies of Keegan-Michael Key)
worse movies of Keegan-Michael Key
Three...better movies of Kodi Smit-McPhee
worse movies of Kodi Smit-McPhee
(There are no more worst movies of Kodi Smit-McPhee)