Dark Phoenix (United States, 2019)
June 06, 2019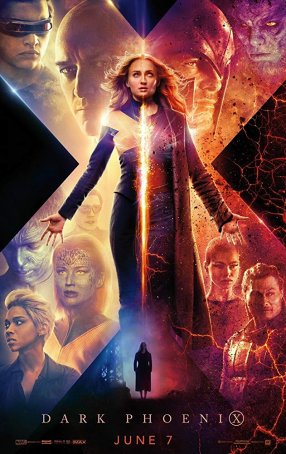 For longtime fans of the X-Men comic books, "The Dark Phoenix Saga" has been the Holy Grail. As crafted by Chris Claremont and John Byrne (with an assist from Dave Cockrum), the epic narrative, which was a major element of The Uncanny X-Men during the late 1970s into 1980, is regarded as one of Marvel's great arcs. It has been (successfully) adapted twice for animated television shows and parts of it were used in the second and third live-action X-Men productions. Co-writer of X-Men: The Last Stand, Simon Kinberg, was displeased with the film and has since harbored a desire to re-do the story. With Dark Phoenix, he has achieved that wish, making his directorial debut to pair with a solo screenwriting credit.
Dark Phoenix is closer to the comic book story than the previous iteration, retaining many of the core elements. Unfortunately, it suffers from a massive condensation that not only mutes the film's emotional impact but creates an erratic tone. There were times when, watching Dark Phoenix, I felt as if I was slogging through one of Zack Snyder's DC Extended Universe films. Admittedly, given X-Men's recent dwindling popularity, it probably wouldn't have been feasible to do the saga justice. At a minimum, that would have required an Infinity War/Endgame commitment which Fox never would have made. Dark Phoenix suffers mightily from cramming too much material into less than two hours when even five hours might have been too slim to do tell the story the right way.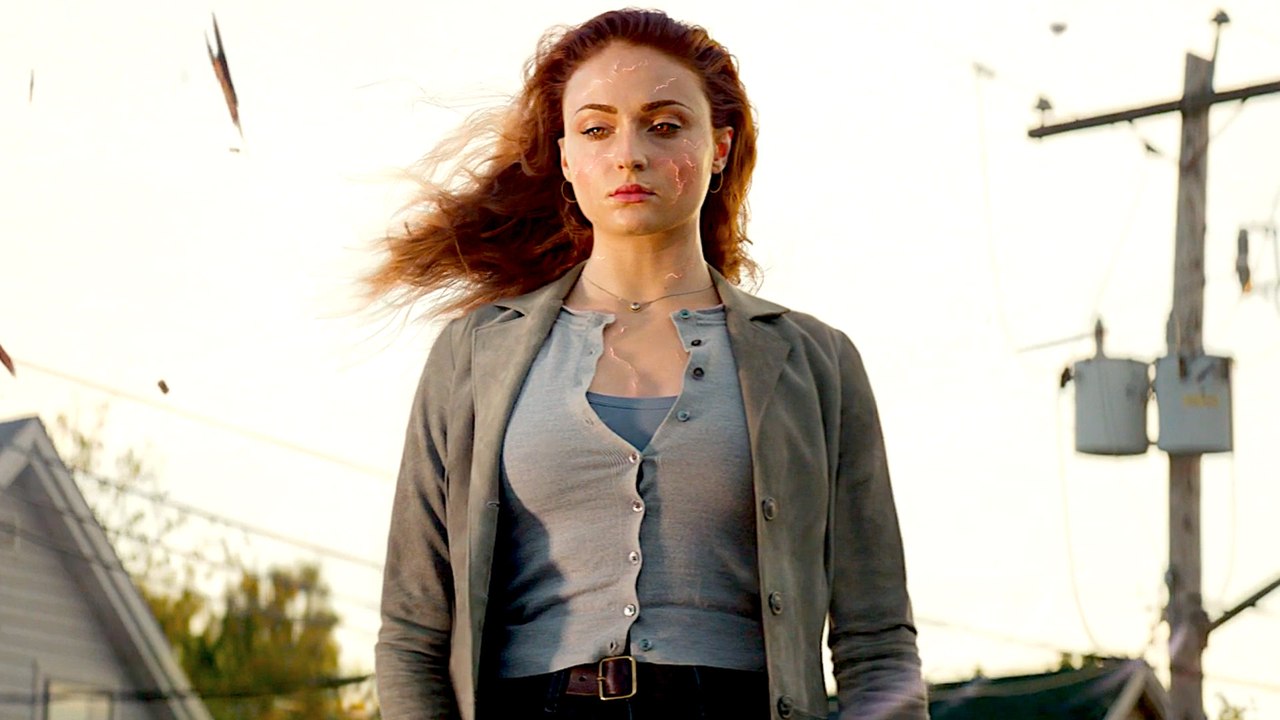 The movie opens with a short prologue that shows Jean Grey as a child (Summer Fontana) instigating a car accident that kills her mother and critically injures her father. Following the incident, she is "adopted" by Professor Charles Xavier (James McAvoy), who brings her to his School for Gifted Children. 16 years later (now played by Sophie Turner), she is part of the seven-person X-Men team, along with lover Cyclops (Tye Sheridan), Mystique (Jennifer Lawrence), Beast (Nicholas Hoult), Storm (Alexandra Shipp), Quicksilver (Evan Peters), and Nightcrawler (Kodi Smit-McPhee). When they head into space to save the crew of a doomed space shuttle mission, Jean absorbs the energy of a cosmic entity dubbed "Phoenix." She returns to Earth with greatly enhanced powers and limited control over them. Dark impulses, stoked by a mysterious alien named Vuk (Jessica Chastain), cause her to become violent and set up confrontations with not only her mentor and former compatriots but with her once-enemy, Magneto (Michael Fassbender), who is drawn out of retirement as a result of her actions.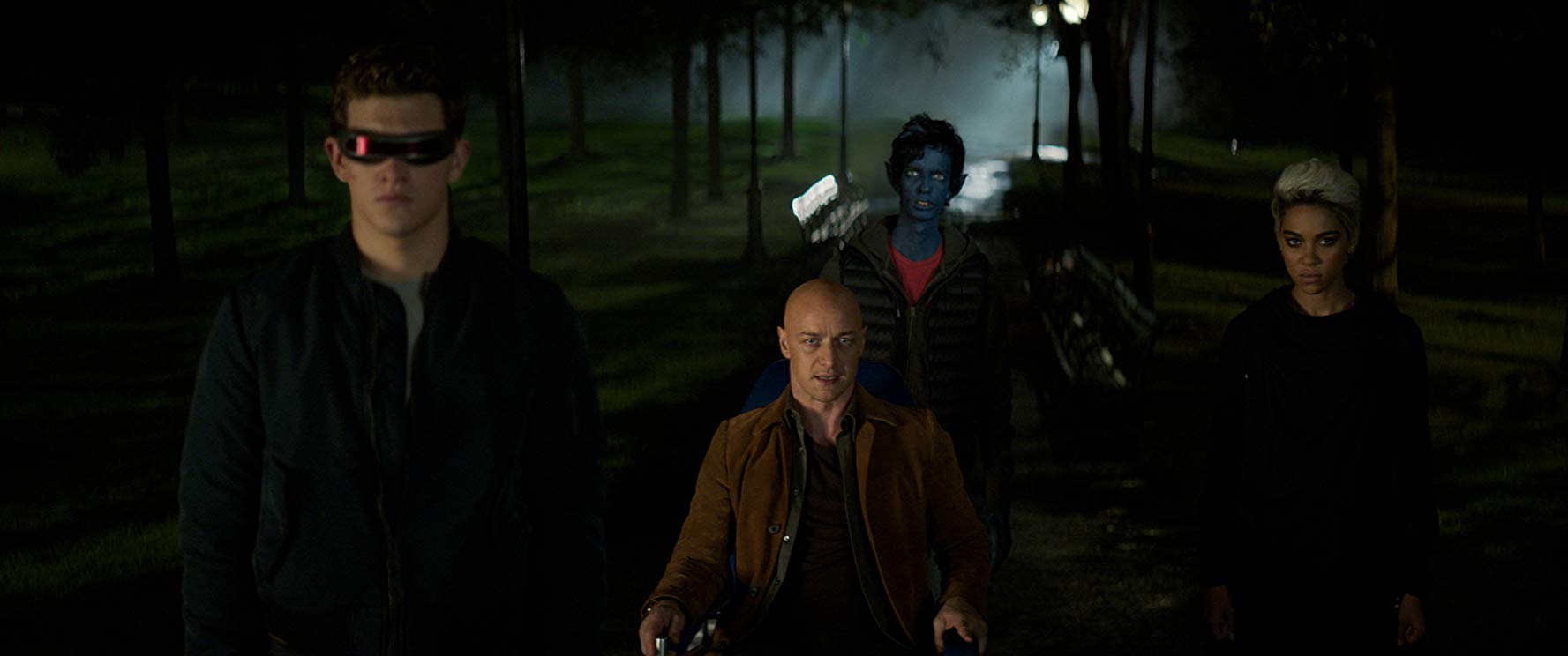 The most frustrating aspect of Dark Phoenix is how evident it is that significant parts of the story have been cut out. This feels like a Cliff Notes version or a Readers Digest abridgement. There's enough action to keep viewers from becoming bored, although several of the fights appear poorly motivated and the connective tissue is weak. Secondary themes, such as Professor X's motivations for deploying the X-Men in certain situations and humanity's acceptance of Mutants, are given short shrift. The latter in particular is resolved in a perfunctory and unsatisfying fashion.
For James McAvoy, who's making his fourth appearance as Professor X, this represents his final opportunity to emerge from Patrick Stewart's shadow. Although he doesn't quite succeed, this is his best outing in the role. Sophie Turner is solid, although she showed more depth and range in Game of Thrones. One of the problems with Jean's arc is the weakness of Turner's chemistry with Tye Sheridan, who plays Cyclops, although that could be more a fault of the screenplay than the actors. Jennifer Lawrence and Michael Fassbender appear to be on hand primarily for name recognition. Although Fassbender gives a credible performance (going so far as to channel an expression of "extreme constipation" when using his powers), Lawrence sleepwalks through her role, appearing either because of a contractual obligation or to get paid. Jessica Chastain's participation is odd – her part seems underwritten and unfinished.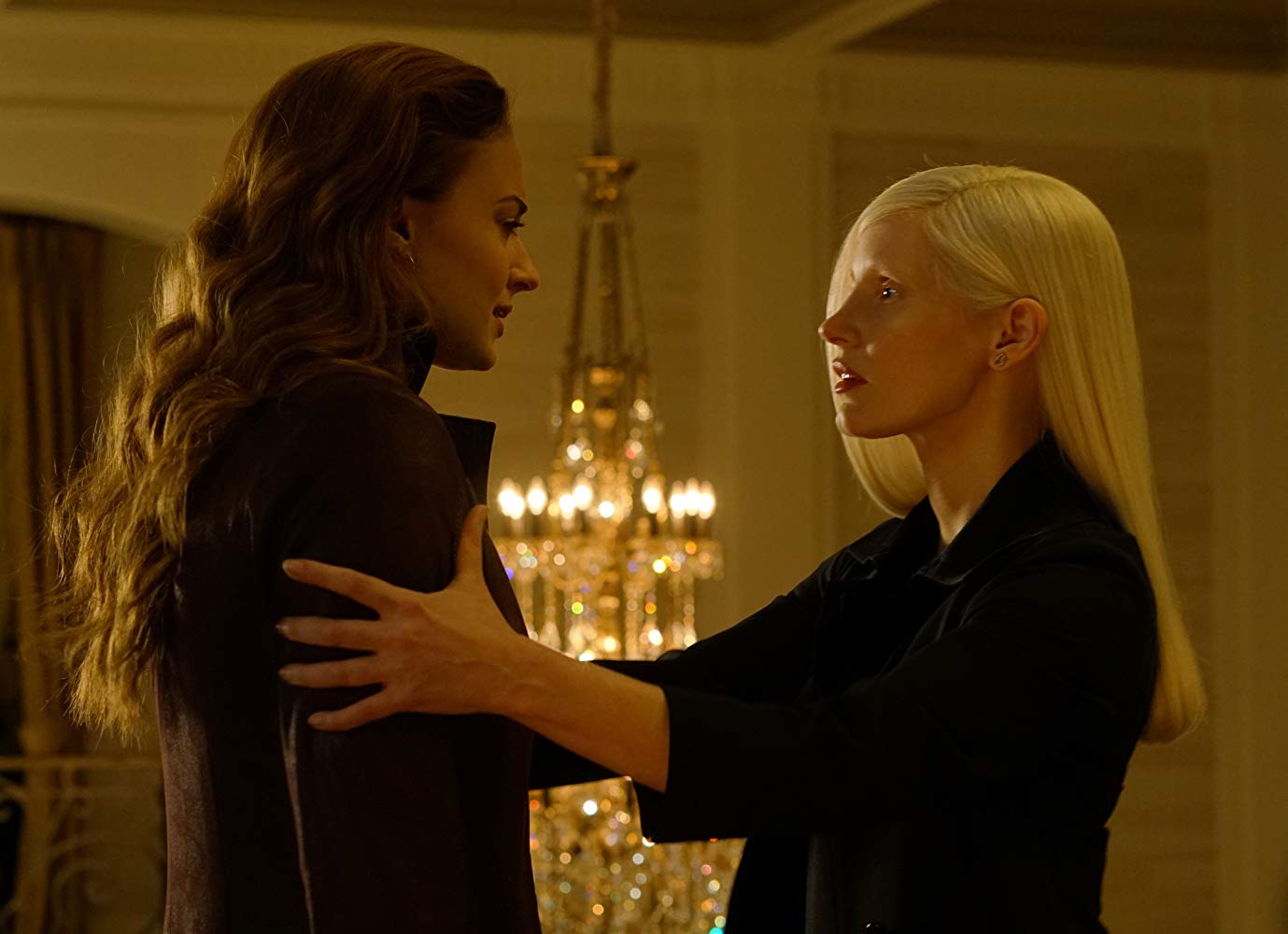 Although Kinberg's screenplay does a better job than the one he co-wrote with Zak Penn and Brett Ratner, his direction is shaky. An epic-sized film like this needs someone with experience and Kinberg has none. It shows in the uncertain choreography of some of the battles. There are also pacing problems. The movie looks cheap-ish, at least in comparison with Avengers: Endgame, with instances when the special effects seem cut-rate. Apparently, the entire third act was reshot due to unintentional similarities with another recent superhero film. (There has been much speculation about the identity of the title, which Kinberg hasn't revealed.) This could explain some of the head-scratching inconsistencies during the climactic battle.
Dark Phoenix represents the end of Fox's X-Men movies and, although no members of the inaugural 2000 class (which included Patrick Stewart, Hugh Jackman, Famke Janssen, Ian McKellan, and Halle Berry) remain, the brand has endured longer than any other Marvel property. Without the success of X-Men, there might have been no MCU. Now, with the mutants returning home and destined for a reboot, it's worth looking back at the convoluted, continuity-strained history of these films. In many ways, Dark Phoenix provides a fitting coda since it encapsulates much that was good and bad about the series: exhilaration, tragedy, and frustration all mixed together. This movie falls short of its grand aspirations to be an emotionally fraught tale of power and its consequences, violence, and redemption but there's something worthwhile about how it tries.
---
Dark Phoenix (United States, 2019)
Director:
Simon Kinberg
Cast:
James McAvoy
,
Kodi Smit-McPhee
,
Evan Peters
,
Alexandra Shipp
,
Nicholas Hoult
,
Jennifer Lawrence
,
Tye Sheridan
,
Sophie Turner
,
Michael Fassbender
,
Jessica Chastain
Home Release Date: 2019-09-17
Screenplay:
Simon Kinberg, based on "The Dark Phoenix Saga" by Chris Claremont, John Byrne, and Dave Cockrum
Cinematography:
Mauro Fiore
Music:
Hans Zimmer
U.S. Distributor: 20th Century Fox
---

Three...better movies of this genre
worse movies of this genre
Three...better movies of James McAvoy
worse movies of James McAvoy
Three...better movies of Kodi Smit-McPhee
worse movies of Kodi Smit-McPhee
(There are no more worst movies of Kodi Smit-McPhee)
Three...better movies of Evan Peters
(There are no more better movies of Evan Peters)
worse movies of Evan Peters
(There are no more worst movies of Evan Peters)