Boys Are Back, The (Australia/United Kingdom, 2009)
September 15, 2009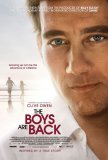 It is said that films are not made about fully functional families because their stories are inherently uninteresting. The Boys Are Back shows that dysfunction doesn't necessarily equate to compelling. There's nothing terribly wrong with this leisurely paced chronicle of a single father's struggles parenting his two sons, but there's nothing terribly right with it, either. It's well-acted, competently directed, and features some beautiful cinematography (Greig Fraser provides breathtaking shots, especially one of tall grass being prompted by a strong breeze), but the story is ordinary and the emotional involvement is limited. It is often said that melodrama can ruin a motion picture, but that comment typically refers to an excess. The Boys Are Back could benefit from an injection of a little. This is the kind of movie that works best when one relates to it on a primal level more than on a purely intellectual one. Director Scott Hicks, who showed an uncanny ability to walk the line between too much and too little melodrama in Shine, is arguably too reticent in his treatment of this father/sons story.
Joe Warr (Clive Owen) is a British-born sports writer who is living and working in Australia. When his wife (Laura Fraser) dies of cancer, he is left alone to care for his eight-year old son, Artie (George MacKay). Artie, having difficulty coping with his mother's death, becomes a problem child: seemingly "normal" one moment, angry the next, then moody and uncommunicative. Joe, never having had a close relationship with his son (he was often out of town on assignments), finds it difficult to handle Artie. The situation becomes more complicated when Joe's older son from a previous marriage, Harry (Nicolas McAnulty), arrives to spend a summer down under. Although Harry develops a bond with Artie, he is nonplused by Joe's "no rules" style of parenting and ultimately takes on more responsibility than he is ready for.
Hicks' novel is loosely inspired by the real life memoir of Simon Carr, which couldn't be filmed "as is" because of its random, stream-of-consciousness approach. Nevertheless, although the names have been changed and a structure has been applied, numerous incidents and characters from the book make their way into the movie and Carr's influence is evident. Two of the least effectively developed aspects of the movie - the difficulties posed by Joe's high-paid, high-demand job and a tentative relationship with a single mom (Emma Booth) - are inventions of the screenplay. Neither has the "ring of truth" that's apparent in Joe's dealings with his boys. Additionally, the obvious plot device of having the "ghost" (more of a hallucination or fantasy) of Artie's mother make occasional appearances is contrived and unconvincing. It's part of a growing desire in film to make death somehow less permanent than it is. The fact that Joe holds conversations with her might make us question his mental stability.
The film's central problem lies in the father/son relationships. Although the interaction between Joe and Artie and Harry is believable, it's not as compelling as Hicks would like us to believe it is. There's something half-realized in the way these individuals relate to each other. The Boys Are Back keeps a distance between the characters and the viewers that allows us to scrutinize Joe's shortcomings as a parent (his approach to fatherhood occasionally results in his children being placed in harm's way) without tapping into the emotional core. This stylistic choice - almost one of aloofness - becomes a barrier to becoming part of the world of this man and his children. We stand on the outside looking in, and that's not the best way to experience something like this. This is in contrast with Carr's book, which draws the reader in with its poignant remembrances and light humor.
It's refreshing to see Clive Owen get a chance to play someone other than an international agent or action hero - roles that fit him almost too comfortably. Ever since he was first tipped as a possible successor to Pierce Brosnan as James Bond (a part that eventually went to Daniel Craig), Owen has played a succession of almost-007s. His skills as a dramatic actor have not eroded, but they have been obscured. Here, with nothing required of him other than that he play a grieving husband and befuddled father, he re-asserts his strength in a less chaotic milieu.
Single parents will likely see in Joe's life reflections of elements of their own, and this may build a keener understanding of the man. Try as I might, however, I cannot summon much enthusiasm for this movie, which is too overly familiar to offer any real insight and too reserved to allow me to relate to the characters on a visceral level. Hicks has made a technically adept film, but one that, for all of its strong acting and vivid photography, left me less moved than I should have been.
---
Boys Are Back, The (Australia/United Kingdom, 2009)
---
Three...better movies of this genre
worse movies of this genre
Three...better movies of Clive Owen
worse movies of Clive Owen
Three...better movies of George MacKay
worse movies of George MacKay
(There are no more worst movies of George MacKay)
Three...better movies of Laura Fraser
(There are no more better movies of Laura Fraser)
worse movies of Laura Fraser
(There are no more worst movies of Laura Fraser)