Intruders (U.S./U.K./Spain, 2011)
March 29, 2012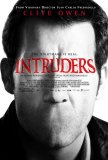 After watching Intruders, I was forced to ponder a question: Why do so many horror movies that begin with promise fall apart in the final act? Intruders is the latest example of what has become a trend: scary films adept at drawing viewers in but incapable of presenting a coherent narrative with a strong conclusion. Director Juan Carlos Fresnadillo, working from a screenplay credited to Nicolas Casarigeo & Jaime Marques, tells a compelling story about two geographically separated children menaced by the same monster. The inevitable twist ties things neatly together before leading to a confusing, borderline-indecipherable ending that fails to satisfy on a number of levels.
Fresnadillo's style is perhaps the most noteworthy thing about the project. He treats Intruders more like a thriller than a horror movie, although the content would argue for the latter. There's plenty of atmosphere, with numerous dark shots, shadows, and night scenes, but the tone is more moody than scary. And there are no "boo!" moments. Fancy that: a horror movie that doesn't go out of its way to get viewers to jump in their seats. It's difficult to say whether Intruders benefits from this, however. The failure of the ending casts a long, reverse shadow over everything that precedes it.
Intruders provides two stories told in parallel featuring the same supernatural entity, who is later referred to as "Hollowface." Juan (Izan Corchero) and his mother (Pilar Lopez de Ayala) first encounter the black robed, faceless creature when it stalks Juan on a dark night. It terrorizes him and his mother and the only thing that seems to stop it is when Juan writes more of the monster story that seems to have summoned Hollowface in the first place. Meanwhile, in England, John (Clive Owen), his wife, Susanna (Carice van Houten), and their daughter, Mia (Ella Purnell), are experiencing similarly unsettling experiences. As a result of a story Mia is writing, Hollowface has targeted her. He hides deep in the shadows of her room and, although John can see him, Susanna cannot. When tapes from a surveillance camera reveal "nothing" to be there, John is encouraged by authorities to move out of his house and seek counseling.
The most interesting aspect of Intruders is how the young protagonists are able to influence their interaction with Hollowface as a result of written and oral stories. Unfortunately, this is an underused (and, one might argue, misused) aspect of the story. However, as poorly as this is presented, it adds a unique flavor to proceedings that are similar to almost every other "child in danger from a supposedly imaginary monster" movie.
At some point, Millennium Entertainment recognized the lack of commercial potential for this property. It's not scary, the storyline is confusing, and, although the "reveal" is suitably surprising, the payoff is weak. Intruders lacks the visceral elements and straightforward plotting necessary to make it a favorite among multiplex scare-seekers and is disappointingly bland for more cultured horror fans. The fact that all the scenes featuring Juan and his mother are in subtitled Spanish (representing about 1/3 of the total screen time) makes it that much more difficult to market. The only recognizable star is Clive Owen, and his performance is not a standout. In fact, the only actor who leaves an impression is young Ella Purnell, whose features and style are reminiscent of a young Reese Witherspoon (young as in The Man in the Moon young). In the end, determining that the box office potential for Intruders was not high, Millennium opted for a limited theatrical release followed by a quick transition to DVD. Those interested in seeing it will do better to wait a short while for it to show up on home video rather than chasing it down in a theater. Intruders doesn't warrant that kind of effort.
---
Intruders (U.S./U.K./Spain, 2011)
---
Three...better movies of this genre
worse movies of this genre
Three...better movies of Clive Owen
worse movies of Clive Owen
Three...better movies of Carice van Houten
(There are no more better movies of Carice van Houten)
worse movies of Carice van Houten
Three...better movies of Daniel Bruhl
worse movies of Daniel Bruhl