Valkyrie (United States/Germany, 2008)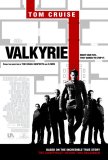 Going into this film, I wondered whether the filmmakers would succeed at generating tension out of an event whose outcome is so well-known. Even those with only a rudimentary knowledge of history are aware that Hitler did not die as the result of an assassination attempt; students of World War II know the ins and outs of the July 20, 1944 plot that ended with more than 5000 arrests and 200 executions. Yet director Bryan Singer has capably crafted this war thriller in such a way that one occasionally forgets the foregone conclusion and becomes wrapped up in the excitement of the moment.
Valkyrie covers a span of roughly 18 months from early 1943 until the fatal, final day. The film, which is fictionalized but follows the known historical facts reasonably faithfully, provides a window into the inner workings of the military resistance - those highly-placed Nazi officers who were seeking Hitler's death or ouster. Colonel Claus von Stauffenberg (Tom Cruise), an up-and-comer despite (or perhaps because of) suffering serious wounds in Africa while with the Tenth Panzer Division, is recruited into the resistance by its leader, Major General Henning von Tresckow (Kenneth Branagh) and his compatriot, General Friedrich Olbricht (Bill Nighy). It's not a "tough sell" for Stauffenberg - he has already decided that the moral thing is to preserve the German race by dispatching the leader. He is introduced to other key members of the resistance, including former General Ludwig Beck (Terence Stamp) and the would-be Chancellor replacement, Carl Goerdeler (Kevin McNally). When Tresckow is sent to the front, Stauffenberg is placed in charge of the resistance.
The plot to assassinate Hitler is a complex scheme that requires not only detonating a bomb close enough to the Fuhrer to kill him but a means by which the S.S. can be cut off and arrested before taking charge. Stauffenberg believes he has the solution, something called "Operation Valkyrie." It's an emergency plan for the mobilization of the reserve army that could be used to provide the military backing for a coup. There's a complication, however. The undisputed head of the reserves, General Freidrich Fromm (Tom Wilkinson), must be convinced to cooperate, and he is notoriously unwilling to commit to any course of action that is not clearly in his best interests. Nevertheless, with the plan in place, actions move toward the first assassination attempt.
The film contains its share of high-tension scenes, including one in which Stauffenberg persuades Hitler (David Bamber) to sign off on his revised version of Operation Valkyrie; the sequence when the bomb is planted and detonated; and the subsequent "Battle for Berlin," where nary a shot is fired. The film marks a fascinating aspect of history that is all-too-often neglected in less thorough explorations of World War Two. It is curious to note, however, that the most famous casualty of the July 20 assassination attempt, Field Marshal Rommel (who was mistakenly implicated and committed suicide as a result), is not mentioned in the movie. The oversight is likely the result of time constraints, although it would have shown how far and wide the net was spread to wipe out resistance within the military.
Valkyrie, despite being a more straightforward thriller, is less gripping than Downfall, the most recent film in which Hitler had significant screen time. David Bamber's physical resemblance to the dictator is effective enough for the few scenes in which he appears, but it goes without saying that he doesn't come close to Bruno Ganz's startling portrayal in Downfall. Tom Cruise is solid as Stauffenberg. Maybe it's partially the result of the eye patch, but the actor is quickly buried in the character, which is a feat in Cruise's case, since he is one of the few working celebrities who almost always seems bigger than the parts he plays. The supporting cast, comprised primarily of British actors (Kenneth Branagh, Tom Wilkinson, Bill Nighy), is as good as one would expect from such a group. And Carice von Houten, most recently seen as the protagonist in Black Book - another World War II thriller - is gorgeous as Stauffenberg's wife. (It's worth noting that another Black Book cast member, Waldemar Kobus, is also in Valkyrie. In the former movie, he played a piggish Nazi officer. Here, he's a police chief who collaborates with the resistance.)
Verisimilitude is always a key element of a World War II movie, and Valkyrie goes all out. Many scenes were filmed on location in Berlin and, in those instances when a place no longer existed, it was meticulously recreated. As a result, Singer succeeds in the all-important task of transporting audiences back in time. As movies about the Nazi regime go, this one is a strong and successful recreation of one aspect of the war that does not receive much screen time. There may not be many white-knuckle moments in this thriller, but it's to the filmmakers' credit that we are nevertheless engrossed from start to finish, even though we know how this will all end up.
---
Valkyrie (United States/Germany, 2008)
Run Time: 2:00
U.S. Release Date: 2008-12-25
MPAA Rating:
"PG-13" (Violence)
Genre:
THRILLER
Subtitles: none
Theatrical Aspect Ratio: 2:35:1
---
Three...better movies of this genre
worse movies of this genre
Three...better movies of Tom Cruise
worse movies of Tom Cruise
Three...better movies of Jamie Parker
(There are no more better movies of Jamie Parker)
worse movies of Jamie Parker
(There are no more worst movies of Jamie Parker)
Three...better movies of Kevin McNally
(There are no more better movies of Kevin McNally)
worse movies of Kevin McNally