Pirates of the Caribbean: On Stranger Tides (United States, 2011)
May 19, 2011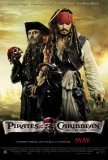 Seen in IMAX 3-D.
The fourth Pirates of the Caribbean movie represents a perfect encapsulation of what the summer sequel tent-pole has become: a half-baked casserole of recycled elements from past installments of the franchise tossed together with lackluster action sequences (inspired by or designed for video games) and gratuitous special effects. The screenplay, credited to Ted Elliott & Terry Rossio, is little more than a clothesline from which to dangle all of the obligatory set pieces. This is one script that could have been assembled using a computer. Had that been the case, however, the result wouldn't have been as long-winded. The basic story is simple; it's something of a wonder how much endless exposition and tedious dialogue Elliott & Rossio cram into the film's bulging 137 minutes.
Reviewing On Stranger Tides as a movie has limited value. The production will not make about a billion dollars (worldwide) because it has the elements viewers value from cinema. It, like many summer blockbusters, is designed to deliver a momentary adrenaline jolt while providing audiences with a few familiar characters and elements. All that will be remembered upon exiting the theater is that there are now four (instead of three) episodes in the franchise. On Stranger Tides exists mid-way between a video game and an amusement park ride (in this case, the second part can be taken literally) and, for those who aren't looking for anything more, it will probably succeed. I suspect that will represent a large percentage of those who pay out their hard-earned cash to see it projected theatrically (in 3-D, IMAX 3-D, or good old-fashioned 2-D).
The existence of a fourth Pirates film was predicated upon the participation of Johnny Depp, whose interest was piqued by a paycheck with a lot of zeroes in front of the decimal point. No one will begrudge Depp the huge windfall; he has paid his dues, working for creative forces like Jim Jarmusch and Terry Gilliam. Still, it's a little disappointing that his contributions to On Stranger Tides are limited to the likeness and mannerisms of the campy and charismatic character he played on three previous occasions. Captain Jack might just as easily have been portrayed by an animated version of a Madame Tussauds waxwork dummy.
On Stranger Tides opens an undetermined time after the conclusion of At World's End. Captain Jack, accompanied by an old flame, Angelica (Penelope Cruz), and her father, Blackbeard (Ian McShane), is in search of the Fountain of Eternal Youth. There are two other groups involved in the race for the prize: a small army of Spaniards and an English privateer captained by Barbossa (Geoffrey Rush). As with any quest, it's not just a matter of following a treasure map to the final destination. There are items that must be collected along the way - in this case, two chalices and the tear of a mermaid.
Several characters from the first three Pirates are back, including Barbossa and Jack's right-hand man, Gibbs (Kevin McNally). Not appearing are Orlando Bloom and Kiera Knightley. Surprisingly, they are missed. Knightley's flirtations with Depp represented the best thing about Dead Man's Chest and, throughout the first trilogy, the two "vanilla" characters were the straight men to Captain Jack's clown. Without them, the outrageous buccaneer is considerably less endearing. A couple of irrelevant secondary characters (a missionary and a mermaid) are introduced to add the element of romance subtracted by the removal of Elizabeth Swann and Will Turner, but they represent little more than a means by which the running time can be inflated. Jack is left interacting with Angelica, but the only thing about Penelope Cruz in this role that isn't flat is her chest.
Rob Marshall's direction is competent and, from a technical standpoint, there's nothing wrong with the various action sequences aside from the lack of excitement. For all his faults, Gore Verbinski at least handled the action with panache. Those movies thrummed with derring-do. This one sinks. In many ways, On Stranger Tides reminds me of another fourth installment, Indiana Jones and the Kingdom of the Crystal Skull. The level of disappointment is perhaps muted because the wait between Pirates sequels has only been four years while Spielberg/Lucas/Ford kept us waiting for two decades. Still, both movies are indications that the filmmakers should have stopped with a trilogy.
Is it necessary to say anything about the 3-D? Having seen On Stranger Tides in IMAX 3-D, I'm convinced that the less expensive, brighter, and more colorful 2-D is the way to go. The 3-D gave me a mild headache (the first time that has happened) with the action sequences notably suffering from blur. Also, since many of the scenes are dark, it may sometimes be useful to remove the glasses to figure out what's happening. Maybe darkness isn't a bad thing for a quasi-amusement park ride. After all, the lights are off for most of Space Mountain. The problem is, there's no sense of motion in On Stranger Tides.
As a movie, On Stranger Tides would have to be considered a failure. The story does not engage, the characters are stick figures, the action sequences are perfunctory, and the whole enterprise reeks of being a money-grab. Yet, when seen through the prism of what is often proffered as "summer entertainment," it's a relatively cheap way to numb the mind and dull the senses. With expectations properly adjusted, maybe this Pirates of the Caribbean won't make you feel like you've been forced to walk the plank.
---
Pirates of the Caribbean: On Stranger Tides (United States, 2011)
---
Three...better movies of this genre
worse movies of this genre
Three...better movies of Johnny Depp
worse movies of Johnny Depp
Three...better movies of Penelope Cruz
worse movies of Penelope Cruz
Three...better movies of Geoffrey Rush
worse movies of Geoffrey Rush