Broken Hearts Gallery, The (United States/Canada, 2020)
September 10, 2020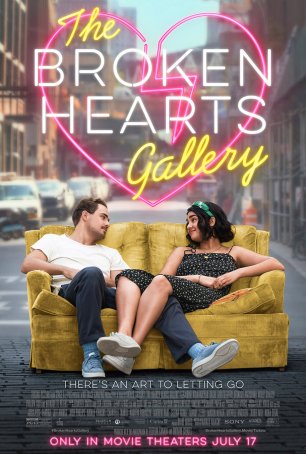 If not for the high-energy performance of lead actress Geraldine Viswanathan, The Broken Hearts Gallery would feel like a lesser '90s-style rom-com where following a preordained path is more important than taking the time to show two people believably falling in love. Too light on both laughter and romance, The Broken Hearts Gallery meanders through its fantasy island version of New York City with meet-cutes and complications-with-exes until it reaches the inevitable climax. Through it all, though, Viswanathan's live wire presence keeps the movie from overstaying its welcome even when it veers into sitcom territory. One could easily see this as a pilot for an anthology TV series.
Viswanathan plays Lucy Gulliver, a twentysomething New Yorker who finds her life turned upside down in one very bad night. After learning that her one true love, the narcissistic Max (Utkarsh Ambudkar), is neither the "one" nor "true," Lucy makes a drunken public spectacle of herself that results in her being fired by gallery owner Eva Woolf (Bernadette Peters). Unemployed and emotionally devastated, she stumbles into a car she thinks is an Uber but which is actually a private vehicle. The driver, Nick (Dacre Montgomery), takes pity on her and escorts her home, where she is provided solace by her roommates, Amanda (Molly Gordon) and Nadine (Phillipa Soo).
Of course, Lucy and Nick are fated to meet again…and again. They eventually become friends and Nick shows Lucy the dream project he has been working on: creating a boutique hotel in the heart of the city that's designed to turn back the clock. It's there that Lucy starts The Broken Hearts Gallery, a place where mementos of failed relationships can be gathered as part of the healing process. In return for doing work for Nick, Lucy is given an area of the hotel's second floor to use for the gallery. What begins as a lark, however, turns into a Big Thing when it catches fire on Social Media and Lucy is inundated by contributions. This attracts the interest of both Max and Nick's ex, Chloe (Suki Waterhouse), whose mutual presences threaten to stall or derail the growing chemistry between the film's leads.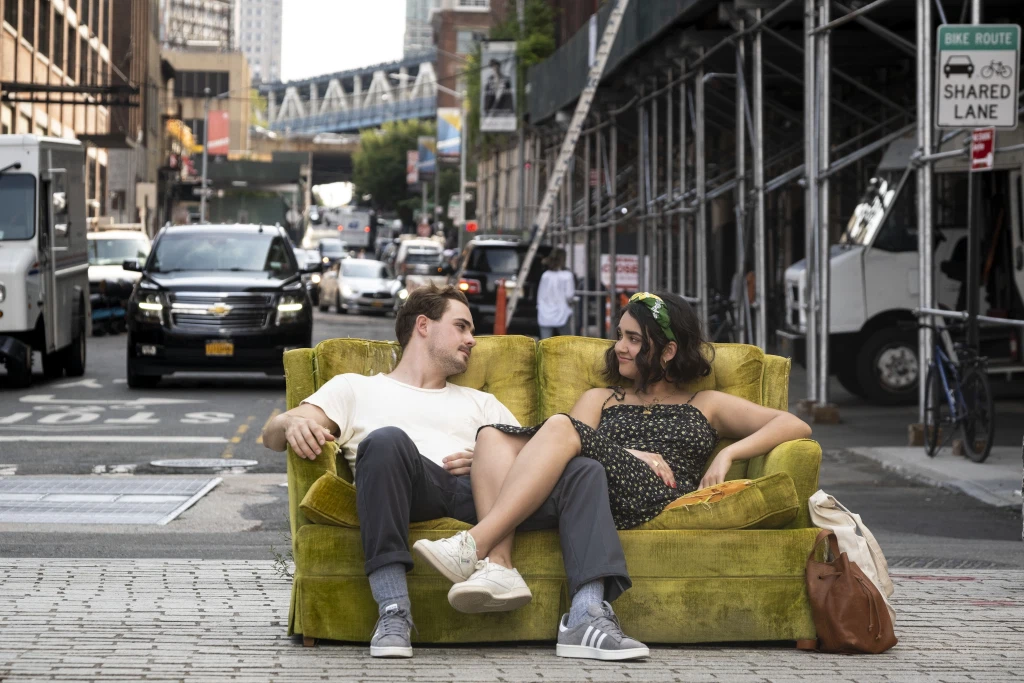 If you're a rom-com fan, you know where all this is going, at least in a broad sense. Writer/director Natalie Krinsky follows the template with minimal deviation. Her work behind the camera is unpolished; there are occasional problems with shot selection and transitions. The film's attempts to build "mini-stories" around some of the items that are donated to The Broken Hearts Gallery don't work. The movie also mistakenly believes there's dramatic potential in these. Although the film is intended to be a romantic comedy, the tone is often too earnest, which results in an awkward level of artificiality. The best romantic comedies cause laughs and giddiness in equal proportions. While The Broken Hearts Gallery offers its share of the latter, it's slim pickings for the former. Attempts to add tears into the mix are more often cringe-worthy than successful.
Krinsky's most likely inspiration for The Broken Hearts Gallery is (unlikely as it may seem) When Harry Met Sally. Both films are set in a divorced-from-reality, movie version of New York, both feature bubbly female leads, both highlight friendships that turn romantic, and both intersperse faux "interviews" throughout. (There are also similarities to the endings but being specific might constitute spoilage.) That's not to say that The Broken Hearts Gallery is anywhere close to When Harry Met Sally. Nora Ephron's dialogue alone establishes the 1989 on a considerably higher plane. Rob Reiner's classic also targeted an older and ostensibly more sophisticated audience (hence the "R" rating).
Although one might easily wish for a more palpable chemistry between Lucy and Nick than the fitful, sometimes-it's-there-sometimes-it's-not variety, the two make an attractive couple. Personality-wise, however, Nick is consistently upstaged by Lucy. If there's a "find" in The Broken Hearts Gallery, it's Viswanathan. Given the opportunity to emerge from the background (she had supporting roles in both HBO's Bad Education and Blockers) and take center stage, she does so with a vengeance. It's no exaggeration to say that she's the reason to see The Broken Hearts Gallery, although it's disappointing that this by-the-numbers rom-com doesn't offer others.
---
Broken Hearts Gallery, The (United States/Canada, 2020)
---

Three...better movies of this genre
worse movies of this genre
Three...better movies of Geraldine Viswanathan
(There are no more better movies of Geraldine Viswanathan)
worse movies of Geraldine Viswanathan
(There are no more worst movies of Geraldine Viswanathan)
Three...better movies of Dacre Montgomery
(There are no more better movies of Dacre Montgomery)
worse movies of Dacre Montgomery
(There are no more worst movies of Dacre Montgomery)
Three...better movies of Molly Gordon
(There are no more better movies of Molly Gordon)
worse movies of Molly Gordon
(There are no more worst movies of Molly Gordon)